Project READ training
volunteer tutors

Send a link to a friend
[DEC. 8, 2003] Literacy affects individuals and the community in very direct ways. To read directions on a medicine bottle or a driver's license manual, or to use a telephone directory or a bus schedule, a person has to read at a basic level of understanding. Children's educational potential is directly related to their parents' level of literacy.
Billions of dollars are spent on welfare and unemployment costs that can be traced to illiteracy. It costs the business community billions of dollars annually in costs directly related to the literacy level of the work force, such as low productivity, poor product quality, lost supervisory time and workplace accidents. It is apparent that skills in reading and speaking English are needed by millions of people.
This is not a national problem that is happening somewhere out there, away from here. It is right here too. Logan County has a large number of its population reading below the level necessary to function effectively in daily life.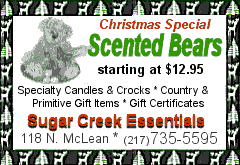 Reading Education for Adult Development, more simply known as Project READ, is a volunteer literacy program serving Logan County. It is sponsored by Heartland Community College through a grant from the Illinois secretary of state's office.
Through Project READ, tutors and students meet one-on-one for one to two hours a week at a convenient location, usually at Heartland's Lincoln campus in downtown Lincoln. Training, materials and support for tutors are provided by the program coordinator.
Tutor training will be Jan. 12, 13 and 14 from 8 a.m. to noon. If you are interested in volunteering to teach an adult to read, please contact Valerie Conrady at Heartland Community College, 735-1731.
[News release]