Boys 8A state tournament
At Wenona
Roanoke-Benson 11 15 23 30
Hartsburg-Emden 5 12 23 37
Hartsburg-Emden -- Rademaker 10, Conrady 14, Da. Bolen 7, Rohlfs 0, Umphreys 4, Du. Bolen 2. Three-point field goals (4): Rademaker 2, Conrady 2.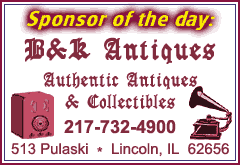 [FEB. 20, 2003] The Illinois State Redbirds play the Marshall Thundering Herd in Huntington, W.Va., on Saturday.
Click here to view background information (in Adobe Acrobat).
[Click here to download the Adobe Acrobat reader.]
[Provided by Todd Kober,
director of media relations,
Illinois State University]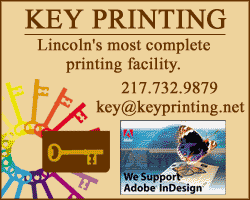 Families interested in attending Redbird baseball games can see all 15 home games for a reduced price of $30. The price includes two adult tickets and two youth tickets (high school age and under). Individual season tickets are also available for $15. General admission prices on a per game basis will be $5 for adults and $3 for youths.
In addition, two packages will be available for large groups, businesses or organizations interested in attending Illinois State home baseball games. The "Grand Slam" package includes 500 tickets good for any of the 15 Redbird home games. This package also includes name recognition on a sponsor's banner present at every home game, logo recognition in the game day program, public address announcements during each home game, five invitations to "Sponsor Appreciation Day" on May 17 and the opportunity to throw out the first pitch at a designated game. Cost for this package is $300.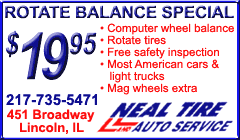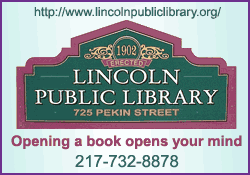 The "World Series" package is an excellent opportunity for a company or business to enjoy Redbird baseball and promote their organization at the same time. The package includes all of the features of the Grand Slam package with the addition of a permanent outfield fence sign (4 by 8) that will be present at every home game this season. Cost of the World Series package is $1,000.
If you are interested in purchasing season tickets for the upcoming baseball season, call the ticket office at Redbird Arena, (309) 438-8000. The first home game is scheduled for Friday, March 21, against Creighton.
[Rob Huizenga, athletics media relations,
Illinois State University]
Alexander ties record
By Jeff Mayfield
[FEB. 17, 2003] When I moved to Lincoln back in the '70s, the Lincoln Railer basketball team was enjoying quite a lot of success under then-coach Loren Wallace. When he left I thought to myself, "Self, I probably won't live long enough to see that record ever broken." Especially when you consider two things. One, you actually have to STAY at the same school for a number of years. And then the real kicker, you actually have to be CONSISTENTLY good. That's all current Railer coach Neil Alexander has been. Consistently darn good! With Friday night's 61-51 victory over Sacred Heart-Griffin, Alexander tied legendary former coach Wallace with his 271st career win.
If you're scoring at home, that is an average of about 20.8 victories per season! Some coaches work their whole careers hoping for one or two of those seasons, while coach "Al" AVERAGES that many victories!
I could write volumes in regard to my admiration for what he has done, but if you're a loyal reader of this column, then you already know where my allegiance lies. So, I'll condense it to this: This record is a totally, incredibly amazing feat! We tip the LDN hat to coach "Al," and I can only utter this word that doesn't do this record justice: CONGRATULATIONS, coach!!!
Panic sets in?
IF you're among the legion of Illini fans who want to dive head-first off the bandwagon, let me throw this little morsel your way. Especially IF you REALLY thought that the Illini were going to win at Mackey Arena anyway. Last year the Big Ten quad-champions went a combined 29-3 at home! And one of the losers was our dearly beloved Illini, who fell to Michigan State in one of the UGLIEST games that this semiprofessional writer has ever witnessed. I'd love to live long enough to NEVER have to experience something like that again, but surely I will.
I just wanted you to know that the home-court games are a must, as evidenced by the current top five teams, who are a combined 27-1 as we post; and the team that has the more favorable schedule and can somehow steal three or four road wins will win the conference. From the start we didn't think that would be Illinois, and we said so.
However, there is STILL a lot to play for. A bigger concern is that we're just not playing all that well consistently. I hope we didn't peak against North Carolina! We still want a good spot for the league tourney, and we want the best seed we can get for the Big Dance.
Tomorrow night versus Michigan State should be fun… Don't we owe them a little sumpin'-sumpin'???
Let's give it up for…
...the Hartsburg-Emden eighth-grade boys basketball hoopsters! They are 22-1 and will take on an 18-3 Mulberry Grove team tonight at 6:30 in Wenona. Good luck, fellas!
Mount Pulaski, Warrensburg-Latham and Hartsburg all won their games!
Lincoln College may never lose again!
Thirteen in a row is the boisterous chant coming from the campus of Lincoln College! The Lynx (18-6, 11-0) dumped an always tough Danville squad 58-53 and surely should improve on their No. 10 national ranking! Their Saturday game at Flo Valley was postponed like hundreds of others in the Midwest -- no doubt a big break for Flo Valley!
Tiger Woods
Any questions?
Didn't think so!
Michael Waltrip wins Daytona 500
Those of you who know NASCAR better call in on "FANdamonium" tonight at 6 to explain to us what happened. You can catch us on the LDN, on CITV channel 5, or on FIX 96.3! We also hope to feature members of the Lincoln High School swimming team on the show tonight!
Sports memorabilia collectors take note…
We will be giving away a Dick Butkus bobblehead ceramic figure at the end of the month. Just e-mail me at Jmayfiel@lccs.edu or call "FANdamonium" to register.
Lady Railers in the postseason…
The No. 9 seeded Lincoln Lady Railers will host the No. 5 Washington club tonight in Lincoln. No. 4 Metamora will also battle No. 13 Decatur-Eisenhower. Good luck, Lady Railers!
Have a REALLY good week, everybody!
Softball pitching clinic in Bloomington
[JAN. 31, 2003] The Bloomington Hearts' annual softball pitching clinic will be Saturday, Feb. 22, at the Shirk Center at Illinois Wesleyan University. Former Illinois State all-American and current Hearts pitcher Nicole Kurth will lead the clinic. Other instructors will include pitchers from the Hearts, IWU and Illinois State University who are very experienced in both playing the game and teaching.
There will be two sessions, so attendees can sign up for 9:30 a.m. until noon or for 1:30 to 4 p.m. The cost is $30 per session, and that includes a heavy-duty T-shirt. For groups of three or more, the cost is $25 per student. The sessions will be limited in number to allow maximum individual instruction.
To register by telephone or for information, call (309) 828-2686 or (309) 662-5861.
[News release]