Boys
Class A sectionals
At Minonk
Illini Central 16 29 45 53
Putnam County 13 33 47 57
Illini Central -- VanEtten 0-0-0, Norton 3-0-8, Williams 4-0-8, Harrison 0-0-0, Cunningham 0-0-0, Hieronymous 3-0-6, Scott 8-4-23, Schrick 0-0-0, Swaar 0-0-0, Sickmeyer 4-0-8. Totals 22-8-53. Three-point field goals (5): Scott 3, Norton 2.
Shelbyville Sectional
At Shelbyville
Friday, 7:30 p.m. -- Nokomis vs. Warrensburg-Latham.
Lincoln does it again
The Lincoln Railsplitters had one last tough assignment in CS8 play. And that was to beat the always difficult Lions of Lanphier High. No coach prides himself more on scouting and being prepared for Lincoln than former Railer coach Craig Patton. And late in the third quarter and early in the fourth quarter when Lanphier cut a substantial lead to four points, you began to worry. They even had chances to cut into the lead further, but the Railers would have none of that!
With the victory Lincoln now stands at an incredible 28-2 and ends up sharing the league title with Springfield Southeast. Postseason play is the next level for Lincoln, as they will host Springfield Tuesday night in their own regional.
Illini win one of biggest games ever
You may be wondering if you read that subtitle correctly. Is it just another Mayfield overstatement? In a word, no. It is one of the biggest victories ever because of the possible implications or consequences. The Illini had to at least split their remaining road games.
Kudos and props to Greg Taylor, Brad Neal, Tom Seggelke and a host of others who felt all along that Illinois could win at Michigan easier than at Wisconsin.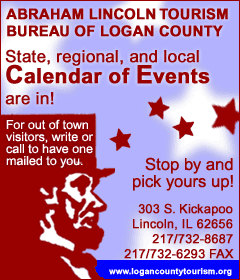 Normally, I would've agreed with them. But that was before I watched Michigan do everything but beat us in their last trip to the Hall. Thank God for Brian Cook, or we would've already been eliminated from the league race. It was also before I saw how much Michigan had improved and saw for myself that they were as good as anybody and better than most. Then, when you consider how tough it is to win on the road, especially the last few years in the league… Or when you analyze how young the Illini truly are… Not to mention that since Michigan is on probation (something I might vote for on a permanent basis), winning the league championship and tourney title is the only postseason that they will have. Weighing those options, the scales seemed to tip in favor of Michigan.
But, I didn't know that they weren't going to watch film and remember that No. 34 lit them up in the last meeting. I didn't know that Sean Harrington would find himself, and I didn't know that Dee Brown would want the ball in crunch time and make a huge midrange jumper to deliver a dagger.
And did you happen to see the ball screen that Cook used to free up Brown? Or how 'bout the pick Cook displayed freeing up James Augustine for another nail in the coffin? Cook only had 26 points, seven rebounds, five assists and may have even helped usher some of the patrons to their seats, especially with the last 3-pointer that he nailed!
I agree with longtime central Illinois resident John Coady, who once said that if you could place microphones over the TV rooms of fans all over the state in games like yesterday's, the noise level would be nuclear or louder. The final possessions of either half would certainly, I think, prove Mr. Coady's hypothesis!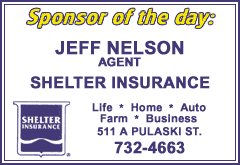 Oh, and the biggest reason that I think this win was one of the biggest ever was because the victory gives Illinois a chance to three-peat for the first time ever in their history.
In an unrelated development, I think that Brian Cook may have solidified his position as the possible player of the year in the league. It may also help him get consideration for national player of the year honors.
STILL if you would've told me in November that this team would be 20-5 with a realistic shot at yet another Big Ten championship, I would've laughed, given you a stamp and mailed it in for you! Who knows? Maybe we can even win at Wisconsin…
Congratulations, Lynx
CONGRATULATIONS to the Lincoln College Lynx on winning the Collegiate Conference of Central Illinois league title with a 15-1 record. With Saturday's 83-64 victory over John Wood, LC extended their sparkling record to 22-7 overall. They will play a first-round game in the Region XXIV Tournament Friday at Southwestern.
Lady Lynx tonight
We believe you can catch the Lady Lynx in a first-round game at home tonight at 5:30, as LC is seeded seventh. They will take a 16-14 record into the postseason.
Not everyone…
…had the karma flowing. LCC's teams did for at least one night, as both the ladies and the men won exciting first-round regional matchups. The ladies had their chances in round two in Wyoming, Mich., but just came up short. The LCC men, on the other hand, had their hands full with the always phenomenal Maranatha Baptist team. Maranatha took out the Preachers early and often, and before you knew it, their season was over.
But what a nice feature on them on WAND! And congratulations to coach Randy Kirk and the men for sticking through one of the most obstacle-filled seasons this reporter can ever remember. Lesser men would've folded up their tent and gone home months ago. What you men did by sticking out the season with dignity is a testament to your strong character. Too bad there are no trophies for that.
"FANdamonium"
Please join my good friend Greg Taylor tonight at 6 right here on LDN or on CITV Channel 5 or FIX 96.3 as he hosts Josh Gallagher and John Peters from the Lincoln Railers basketball team. Call 735-3306 with your question or comment on the Railers, the Illini, the Cubs, the Cards or yesterday's wrestling!
Have a good week, everyone, and good luck, Railers and Illini!!!
The first clinic will focus on offense and defense and will be offered twice, June 9-12 and June 23-26. All sessions will run from 9 a.m. to noon, and the clinic is open to all youths ages 11-17. Cost of the clinic is $100.
The second clinic will emphasize the fundamentals of pitching and catching and will take place June 9-12. The pitching and catching clinic will be open to youths ages 9-17 and will run from 1 to 3 p.m. Cost for this clinic is $100.
The third baseball clinic offered at Illinois State in June will be a developmental clinic. It is designed to instruct younger children the fundamentals of baseball. This clinic will be offered on June 16-19 from 9 a.m. to noon and is available for children ages 6-10. Cost for the developmental clinic is $100.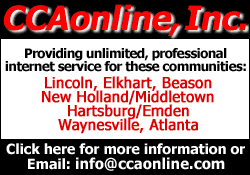 Participants in any of the three clinics will receive a Redbird Baseball Clinic T-shirt and an in-depth take-home evaluation upon completion.
For further information regarding any of these three clinics, please contact Seth Kenny, assistant baseball coach at Illinois State, at (309) 438-3338 or sakenny@ilstu.edu.
Registration forms are available online from the baseball page of the Illinois State athletics website. [To download the Adobe Acrobat reader for the registration file, click here.]
[Rob Huizenga, athletics media relations,
Illinois State University]