The group approved a revised draft of a vision statement at last week's session. The vision statement will determine what type of facility will be reopened, and it will drive all other decisions that need to be made about buildings to be built or renovated and services that will be offered.
The accepted statement envisions a multiuse center on campus, including a community-integrated, state-operated setting offered to individuals with disabilities, giving them the best available, most comprehensive services through increased self-sufficiency and independence in a safe environment.
The LDC site includes a large area of land and buildings that could be used in any number of other ways. Other revenue-producing agencies could use parts of the campus. One such possibility is that buildings could be renovated for low-income housing.
Homework for the week was to look at building costs, cost of startup and operation of the main power plant.
[to top of second column in this article]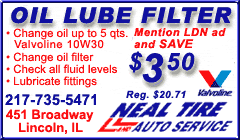 Four groups received homework to assess the types of services that the state offers to developmental centers and group homes. The information will be used to evaluate services and settings needed for people with:
1. Physical disabilities.
2. Developmental disabilities.
3. Mental illness.
4. And other potential populations that might use the facility for staff, training, state services and job training.
While it has not been determined who the population will be, Illinois Department of Human Services spokesman Thomas Green said, "There are no firm decisions on anything yet." The last two sessions, which were spent narrowing down who will be served, were a big step, he said.
Choices between needs and available services for people with physical disabilities or mental illness will make the determination. "It is clear that the newer center will be more comprehensive, with a broader range than previously. It will serve persons with disabilities in a broader way," Green said.