April entertainment at Einstein's includes daylong jam on the 16th

Send a link to a friend
[APRIL 6, 2005] Upcoming entertainment at Einstein's Louisiana CoffeeHouse, 201 S. Sangamon
Saturday, April 9
7:30 p.m. -- Ed Lloyd
Ed loves to play the piano and strum a string or two. Lots of swing, ragtime -- fun, fun, fun music.
Friday, April 15
8 p.m. -- Erisa Kopp
Erisa sings her heart out. She has a beautiful voice.
Saturday, April 16 -- Jammin' jazz all day long
2 p.m. -- Emory 18 (This isn't a jazz combo. This is a highly talented group of high school freshmen who sing and play some great light rock.)
4 p.m. -- Williamsville High Jazz Combo
6:30 p.m. -- Franklin Middle School Jazz Band (OK, OK, I have to brag here. This band is directed by my talented and good-looking son, Kingsley. This is a GREAT band!)
8 p.m. -- Jam session. Anyone who knows the licks is invited to join in.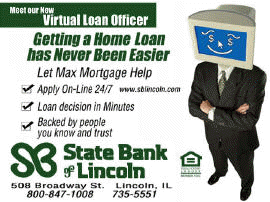 Saturday, April 23
Our good friend and funny guy, Professor James Sennett -- Doc just loves to strum his guitar and belt them out.
Saturday, May 14
Kara Kulpa -- Kara sings good old folk music. (Hey, maybe we can get Tom Quinn up here that night too?)
[From Einstein's]