Cards sweep Brewers and into first place
Cubs dump Bucos, Sox take two of three from Seattle
By Jeff Mayfield

Send a link to a friend
[APRIL 18, 2005] Just in the nick of time, baseball has shifted into high gear. I was a little critical of the St. Louis Cardinals in the spring and through the first week of the season. However, they turned it around this weekend in Milwaukee and played textbook baseball in sweeping the Brewers. With scores of 3-0, 5-3 and 3-2, St. Louis got spectacular pitching, got a little bit out of the hitting funk they were in, played great defense and executed some exciting fundamental baseball along the way. Stellar pitching outings by Chris Carpenter, Jeff Suppan and Jason Marquis, along with the outstanding cleanup work supplied by Jason Isringhausen and his mates in the pen, vaulted the Cards to the top spot in the Norris Division! It was good to see the bullpen get back into the groove. It was also good to see Albert Pujols and especially Scott Rolen putting the barrel of the bat on the ball.
I know that this was just a series against Milwaukee, but you have to start somewhere. I also think that it is more important than many people think to play well early in the season. I know that baseball is a marathon with a 162-game schedule, and people always want to say that if you get off to a slow start, it's OK… there's plenty of time… and you really want to be playing great in October.

Well, dah! I just think that playing well early can set the tone for the whole season. A loss in April or May in a game that you just gave away… could eliminate you from the playoffs in late September. History shows that managers who gave great detail to winning games BEFORE June 1, are oftentimes rewarded with a postseason visit!

The Chicago Cubs took a series win over the Bucos in Pittsburgh behind a strong performance by Greg Maddux. Dusty Baker also informs the fans that he expects the Cubs to really "turn it on" in the days ahead.

The Chicago White Sox have won every series they have played in 2005, for a sparkling 4-0 series record and an 8-4 overall record. They are tied with the Minnesota Twins atop the AL Central Division in front of a monster clash coming up at US Cellular Field.
Racing returns to Lincoln
Check out Tom Seggelke's story and photos!
Some non-sports items for the week:
Mowing
My neighbors hate me… and it's not because I'm beautiful. They hate me because I refuse to mow my lawn before May 1. If you do, you're making a commitment… It's like shaving. Once you start, you're dead. There is no turning back… unless you have a baler, and you don't see many of those around anymore. So, if you see or talk to my neighbors, please just tell them to relax, and it's only two more weeks anyway, for crying out loud. And isn't it healthier for the grass to get two or three more weeks of spring growth under their belts (er… blades)? If it isn't, it should be!
[to top of second column in this article]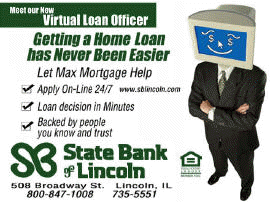 Kids disappearing
Every time I turn on the news there's something about another kid disappearing, kidnapped or harmed. If you have thoughts along those lines, please just turn yourself in. Though sometimes kids can be a little exasperating, I don't think any kid (well, my mom may have had one) deserves anything approaching the crazy stuff that's going around. And yes, I felt that way long before I had a kid of my own. This whole topic just repulses me, and I think as a community we need to be up in arms. John Walsh's show and website as well as the Cyber Sluething site are great resources where many can go for information and to enlist their own help to start wiping out this crazy epidemic. I hope we will all do whatever we can to help these innocent kids.
Movie review
My son was hoping that "Madagascar" was the movie showing, but the feature this week was "Ice Princess" instead. We have seen a few ice skating pictures before, and some of the same themes were at hand. But also in evidence were some variations on the themes. We really liked the emphasis on academics and especially on science, physics and math. Maybe if they're portrayed more positively like they are in this movie, more kids will get excited about those subjects. I fear that we are falling desperately behind kids from other countries who practice those subjects in their sleep.
This movie also demonstrated how sometimes we don't even know what our dreams are until we get out there and experience some new things. Sometimes we discover that we have talents that were previously hidden to us. This is a pretty good family movie. I would guess that if you have a budding or would-be figure skater in your household, they will really go for this flick. I give it a thumbs up, and my boy gave it a sideways thumb just for the popcorn and because he was mad that the movie wasn't "Madagascar"!
Notes
Greg Biffle won this week's NASCAR event (I think in his backup car), and Peter Lonard came across the pond to win his first PGA tournament after Darren Clarke did his Mayfield impersonation and hit his ball into a bush on 18!
That's it for me… Have a great week, everybody!