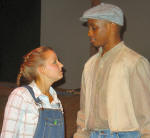 "Mother Hicks," an emotionally compelling play set in southern Illinois during the Great Depression, eloquently depicts three outsiders -- an orphan girl known only as Girl; Tuc, a deaf boy, eloquent in the language of his silence; and an eccentric recluse, Mother Hicks, who is suspected of being a witch.

When natural disasters or life misfortunes occur, Mother Hicks becomes the focus of the people's fear and frustration and is accused of using her craft. Only the other town outcasts, Tuc and Girl, recognize Mother Hicks' true healing powers and befriend her. In each other, the three outcasts find friends, family and acceptance, while realizing that sometimes those who are different from us can teach us the most about ourselves. The tale, told with poetry and sign language, chronicles the journeys of these three to find themselves and each other in a troubled time.

This powerful drama by Susan Zeder is directed by Dan McLaughlin, Lincoln College Fine Arts chairman.

[to top of second column in this article]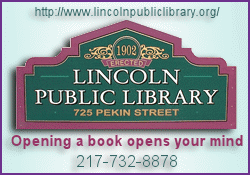 Lincoln College students starring in "Mother Hicks" are Betsy Buttell of Lincoln, who plays Mother Hicks; Tony Crawford of Clinton plays Tuc; Kalee Dionne of Herscher and Liz Adametz of Highland, Wis., play the role of Girl; Jacquis Neal of Lansing plays Ricky Ricks; Anthony Jones of Hartsburg plays Jake Hammon; Tim Linville of Oak Forest and Matt Mahoney of Manito play Howie Hammon; Vince Giles of Lansing plays Clovis Eudy; Kyle Allen of Milford plays Hosiah Ward; Emily Riesen of Spring Grove plays Izzy Sue Ricks; Emily Jo Roberts of Milford plays Ms. Walker; and Emily Escobedo of Loves Park and Ashley Davis of Sandwich play the role of Alma Ward.
Showtime is at 7:30 p.m. Thursday, Friday and Saturday, with a matinee performance at 2 p.m. Sunday.
Ticket prices are $5 for adults, $3 for children and senior citizens. To reserve tickets call (217) 732-3155, ext. 280, Monday through Friday, 8 a.m. to 5 p.m.
[Lincoln College news release]