2005
May | June | July | August | September | October | November | December
Calendar listings on this page are based on announcements provided to Lincoln Daily News.
Please let us know about changes and additional events. Thank you.
---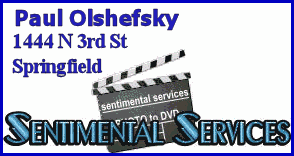 Wednesday, May 25
SPONSOR: Middletown American Legion Ladies Auxiliary 6 Gold Star Unit 672
WHO: Middletown residents
WHAT: Poppy Day
WHERE: Middletown
WHEN: Door-to-door visits starting at 5:30 pm
Saturday, May 28
SPONSOR: Railsplitter Antique Auto Club
WHO: Public
WHAT: Open cruise-in
["Antique car club hosts summer nights out on downtown Lincoln square"]
WHERE: Downtown Lincoln -- Kickapoo Street between Broadway and Pulaski streets
WHEN: 5:30-9 pm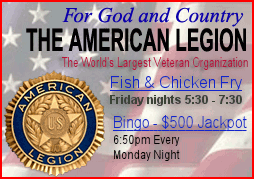 Monday, May 30
WHO: Public
WHAT: Memorial Day programs
WHERE and WHEN: Mount Pulaski Cemetery, 10 am; Steenbergen Cemetery, 11:15 am
Tuesday-Saturday, May 31-June 4
SPONSOR: Lincoln Public Library District
WHO: Two age groups: preschool through sixth grade; teens
WHAT: Sign-ups for summer reading program
WHERE: Lincoln Public Library annex, 725 Pekin St.
---

Wednesdays & Saturdays, June-October
WHO: Public
WHAT: Farmers market
Call 732-6962 for more information.
WHERE: Latham Park
WHEN: Wednesday and Saturday mornings
Saturday, June 4
SPONSOR: Harvest of Talents for World Hunger
WHO: Open to the public, $5 donation per person
WHAT: "In the Garden" garden walk, including door prizes and a prayer walk
For ticket information call (217) 732-7618 or write to harvest@lincolnil.us.
WHERE: A few pleasant gardens and historical sites in Hartsburg
WHEN: 10 am-1 pm
Monday, June 6
SPONSOR: Central Illinois Community Blood Center
WHO: Public
WHAT: Blood drive
WHERE: Logan County Paramedic Association building, 1300 N. Postville Drive
WHEN: Noon-6 pm
SPONSOR: University of Illinois Extension, Logan County
WHO: Registered participants
Call (217) 732-8289 for information. Registration required by May 31.
WHAT: Dining With Diabetes, Part 2
(First of three-session series)
WHERE: Logan County Extension office, 980 N. Postville Drive
WHEN: 6:30-8:30 pm
Tuesday, June 7
(through July 23)
SPONSOR: Lincoln Public Library District
WHO: Preschool through teens
WHAT: Summer reading program begins
Call (217) 732-5732 for details.
WHERE: Lincoln Public Library, 725 Pekin St.
Saturday, June 11
SPONSORS: Logan County Joint Solid Waste Agency, Lincoln Junior Woman's Club, Saint-Gobain Containers, Wal-Mart
WHO: Public
WHAT: Glass recycling
WHERE: Parking lot at Lincoln Wal-Mart
WHEN: 9 am -noon
Monday, June 13
SPONSOR: University of Illinois Extension, Logan County
WHO: Registered participants
Call (217) 732-8289 for information. Registration required by May 31.
WHAT: Dining With Diabetes, Part 2
(Second of three-session series)
WHERE: Logan County Extension office, 980 N. Postville Drive
WHEN: 6:30-8:30 pm
Tuesday, June 14
WHO: Public
WHAT: Flag Day ceremony
WHERE: Logan County Fairgrounds
WHEN: 9 am
SPONSOR: Graue Inc.
WHO: Public
WHAT: Carson & Barnes Five-Ring Circus
WHERE: Logan County Fairgrounds
WHEN: 4:30 and 7:30 pm
Saturday, June 18
SPONSOR: Episcopal Church Women
WHO: Public
WHAT: Trinity's Bargain Basement
Proceeds benefit local charities.
WHERE: Trinity Episcopal Church, 402 Pekin St.
WHEN: 8 am-noon
SPONSOR: Chestnut Volunteer Fire Department
WHO: Public
WHAT: Chicken dinner
WHERE: Firehouse, 110 E. Olive St., Chestnut
WHEN: 4:30-6 pm
Saturday, June 25
SPONSOR: Railsplitter Antique Auto Club
WHO: Public
WHAT: Open cruise-in
["Antique car club hosts summer nights out on downtown Lincoln square"]
WHERE: Downtown Lincoln -- Kickapoo Street between Broadway and Pulaski streets
WHEN: 5:30-9 pm
Monday, June 27
SPONSOR: University of Illinois Extension, Logan County
WHO: Registered participants
Call (217) 732-8289 for information. Registration required by May 31.
WHAT: Dining With Diabetes, Part 2
(Third of three-session series)
WHERE: Logan County Extension office, 980 N. Postville Drive
WHEN: 6:30-8:30 pm
---
Friday-Monday, July 1-4
WHO: Public
WHAT: Lincoln Heritage Days
Friday, July 1
SPONSOR: Railsplitter Antique Auto Club
WHO: Public
WHAT: Car cruise-in
WHERE: Downtown Lincoln
WHEN: Evening
WHO: Public
WHAT: Live band performances
WHERE: Downtown Lincoln
WHEN: 5-8 pm and 9 pm to midnight
Saturday, July 2
WHO: Public
WHAT: Live band performances
WHERE: Downtown Lincoln
WHEN: 5-8 pm and 9 pm to midnight
WHO: LCHS class of 1980
WHAT: Class reunion
WHERE: Knights of Columbus Hall
WHEN: 6 pm
Monday, July 4
WHO: Public
WHAT: Parade
WHERE: Scully Park to Wyatt Avenue and LCHS
WHEN: Morning
SPONSOR: Lincoln Park District
WHO: Public
WHAT: Fourth of July activities
WHERE: Park district facilities, Primm Road
WHEN: Afternoon through fireworks at dusk
Saturday, July 9
SPONSORS: Logan County Joint Solid Waste Agency, Lincoln Junior Woman's Club, Saint-Gobain Containers, Wal-Mart
WHO: Public
WHAT: Glass recycling
WHERE: Parking lot at Lincoln Wal-Mart
WHEN: 9 am -noon
Monday, July 11
SPONSOR: Central Illinois Community Blood Center
WHO: Public
WHAT: Blood drive
WHERE: Logan County Paramedic Association building, 1300 N. Postville Drive
WHEN: Noon-6 pm
Saturday, July 23
SPONSOR: Railsplitter Antique Auto Club
WHO: Public
WHAT: Open cruise-in
["Antique car club hosts summer nights out on downtown Lincoln square"]
WHERE: Downtown Lincoln -- Kickapoo Street between Broadway and Pulaski streets
WHEN: 5:30-9 pm
---
Aug. 1-7
WHO: Public
WHAT: Logan County Fair
WHERE: Logan County Fairgrounds
Monday, Aug. 1
SPONSOR: Central Illinois Community Blood Center
WHO: Public
WHAT: Blood drive
WHERE: Logan County Paramedic Association building, 1300 N. Postville Drive
WHEN: Noon-6 pm
Saturday, Aug. 13
SPONSORS: Logan County Joint Solid Waste Agency, Lincoln Junior Woman's Club, Saint-Gobain Containers, Wal-Mart
WHO: Public
WHAT: Glass recycling
WHERE: Parking lot at Lincoln Wal-Mart
WHEN: 9 am -noon
Aug. 24-Oct. 22
SPONSOR: Harvest of Talents for World Hunger
WHO: Owners of vehicles registered in Illinois
WHAT: Special event license plates promoting Harvest Day in Lincoln
Cost is $20 per set. A legible copy of your valid vehicle registration and a driverís license number required. Only a limited number of plates will be available for first-come, first-served.
WHERE: Contact harvest@lincolnil.us or call Lincoln Christian Church at 732-7618.
WHEN: Legal license plates available for your vehicle Aug. 24 through Oct. 22
Wednesday, Aug. 24
WHO: Lincoln Art & Balloon Festival volunteers
WHAT: Volunteer bash
WHERE: Logan County Airport
WHEN: 6 pm
Thursday, Aug. 25
SPONSOR: Maple Ridge Care Centre
WHO: Public
WHAT: Kickoff party for Lincoln Art & Balloon Festival
WHERE: 2202 N. Kickapoo St.
WHEN: 5:30 pm
Friday-Sunday, Aug. 26-28
SPONSOR: Lincoln/Logan County Chamber of Commerce
WHO: Public
WHAT: Lincoln Art & Balloon Festival
WHERE: Logan County Airport and downtown Lincoln
Friday, Aug. 26
SPONSOR: Oasis Senior Center
WHO: Public
WHAT: Flea market, antiques, collectibles
WHERE: Downtown Lincoln
WHEN: 3-6 pm
WHO: Public
WHAT: Carnival, concessions, crafts, petting zoo, entertainment
WHERE: Logan County Airport
WHEN: 4-10 pm
WHO: Public
WHAT: Hot-air balloon launch
WHERE: Logan County Airport
WHEN: 6 pm
WHO: Public
WHAT: Balloon glow
WHERE: Logan County Airport
WHEN: Dusk
Saturday, Aug. 27
WHO: Public
WHAT: Hot-air balloon mass ascension
WHERE: Logan County Airport
WHEN: 6:30 am
SPONSOR: Lincoln Park District
WHO: Runners
WHAT: Cross country run
WHEN: 8 am
SPONSOR: Lincoln Public Library
WHO: Public
WHAT: Used book sale
WHEN: 9 am-5 pm
WHO: Public
WHAT: Lincoln Art Fair
WHERE: Latham Park, downtown Lincoln
WHEN: 10 am-5 pm
WHO: Public
WHAT: Flea market and collectibles
WHERE: Scully Park, downtown Lincoln
WHO: Public
WHAT: Art of Wine
WHERE: Downtown Lincoln
WHO: Public
WHAT: Carnival, concessions, crafts, petting zoo, entertainment
WHERE: Logan County Airport
WHEN: Noon-10 pm
WHO: Public
WHAT: Bocce ball tournament
WHERE: Logan County Airport
WHEN: Noon registration; competition starting at 1 pm
WHO: Public
WHAT: Hot-air balloon launch
WHERE: Logan County Airport
WHEN: 6 pm
WHO: Public
WHAT: Balloon glow
WHERE: Logan County Airport
WHEN: Dusk
Sunday, Aug. 28
WHO: Public
WHAT: Hot-air balloon fly-over
WHERE: Logan County Airport
WHEN: 6:45 am
WHO: Public
WHAT: Lincoln Art Fair
WHERE: Latham Park, downtown Lincoln
WHEN: 10 am-4 pm
SPONSOR: Lincoln Public Library
WHO: Public
WHAT: Used book sale
WHO: Public
WHAT: Flea market and collectibles
WHERE: Scully Park, downtown Lincoln
WHO: Public
WHAT: 1800s Craft Fair
WHERE: Postville Courthouse, Fifth Street Road
---
Saturday, Sept. 10
SPONSORS: Logan County Joint Solid Waste Agency, Lincoln Junior Woman's Club, Saint-Gobain Containers, Wal-Mart
WHO: Public
WHAT: Glass recycling
WHERE: Parking lot at Lincoln Wal-Mart
WHEN: 9 am -noon
Monday, Sept. 12
SPONSOR: Central Illinois Community Blood Center
WHO: Public
WHAT: Blood drive
WHERE: Logan County Paramedic Association building, 1300 N. Postville Drive
WHEN: Noon-6 pm
Saturday, Sept. 17
SPONSOR: Harvest of Talents for World Hunger
WHO: Public -- ladies and gentlemen
WHAT: Golf outing
Best ball format; foursomes with carts
$50 per person includes door prizes and lunch with homemade pies
To sign up your group, contact harvest@lincolnil.us or Lincoln Christian Church at 732-7618.
WHERE: North Greens Golf Course, Atlanta
WHEN: Morning
Saturday, Sept. 24
SPONSOR: Railsplitter Antique Auto Club
WHO: Public
WHAT: Open cruise-in
["Antique car club hosts summer nights out on downtown Lincoln square"]
WHERE: Downtown Lincoln -- Kickapoo Street between Broadway and Pulaski streets
WHEN: 5:30-9 pm
---
Monday, Oct. 3
SPONSOR: Central Illinois Community Blood Center
WHO: Public
WHAT: Blood drive
WHERE: Logan County Paramedic Association building, 1300 N. Postville Drive
WHEN: Noon-6 pm
Saturday, Oct. 8
SPONSORS: Logan County Joint Solid Waste Agency, Lincoln Junior Woman's Club, Saint-Gobain Containers, Wal-Mart
WHO: Public
WHAT: Glass recycling
WHERE: Parking lot at Lincoln Wal-Mart
WHEN: 9 am -noon
Saturday, Oct. 22
SPONSOR: Harvest of Talents for World Hunger
WHO: Public invited, all ages
WHAT: 22nd annual Harvest of Talents for World Hunger
Breakfast, lunch, snacks, specialty areas of handcrafted items for sale. Something for everyone. Exciting auction of unique handmade items.
All proceeds for hunger relief around the world
Contact (217) 732-7618 or harvest@lincolnil.us.
WHERE: Lincoln Christian Church
Handicapped-accessible facility, parking
WHEN: All day; doors open at 7 am; auction at 2 pm
---
Nov. 5, 9
SPONSOR: Logan County Courthouse Centennial Committee
WHO: Public
WHAT: 100th anniversary celebration of the Logan County Courthouse
["Wanted: Logan County Courthouse tales and such from the past 100 years"]
WHERE: Logan County Courthouse
Monday, Nov. 7
SPONSOR: Central Illinois Community Blood Center
WHO: Public
WHAT: Blood drive
WHERE: Logan County Paramedic Association building, 1300 N. Postville Drive
WHEN: Noon-6 pm
---
Monday, Dec. 5
SPONSOR: Central Illinois Community Blood Center
WHO: Public
WHAT: Blood drive
WHERE: Logan County Paramedic Association building, 1300 N. Postville Drive
WHEN: Noon-6 pm