Church Directory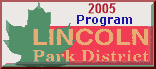 ---
---

---
---
---
---
Contact us
---
LDN is best viewed with IE 6 or Firefox 1.2.
---
LDN awards
Local:
Dec. 16, 2001
Local Emergency Planning Committee
Jan. 25, 2001
Logan County Healthy Communities Partnership
State:
Oct. 1, 2001
Illinois Public Health Association
posted daily OVER THE NOON HOUR (CDT)

One hundred sixty-six years after Abraham Lincoln established Logan County, he stands in the county courthouse in Lincoln, the first city named for him.
Continuing from yesterday, here's another clue.

Just like the real place, afternoon sun illuminates Elkhart Hill. Got it figured out? [Click here to see more and find out if you're right.]
[picture by Jan Youngquist] click on picture for larger image

Community

Submit a classified ad online [Lowest cost for advertising in the county!]
The Sports Page


Bush unveils $7.1 billion plan to prepare for flu pandemic Improving vaccines, stockpiling antiviral drugs part of strategy [CNN]

County airport continues to thrive

Stop! It's illegal to feed the deer and other wild animals

Northeast leaf peeping ended by 'The Perfect Storm II'

Farm income workshops set

Pancake and sausage breakfast in Armington

Support group explores divorce-related topics
'KidCare'

Oasis update

Hunters, sight your shotguns

It's over... but they'll be back
Lady Railers' fine season ends at sectionals
By Rick Hobler

LCC volleyball vs. UIS

Award winners announced at State Farm banquet
(No editions posted Oct. 29-31; server upgrades)