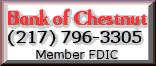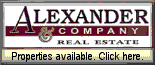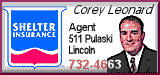 Church Directory

---
---

---
---
---
---
Contact us
---
LDN is best viewed with
IE 6 or Firefox 1.x.

---
LDN awards
Local:
Dec. 16, 2001
Local Emergency Planning Committee
Jan. 25, 2001
Logan County Healthy Communities Partnership
State:
Oct. 1, 2001
Illinois Public Health Association
posted daily OVER THE NOON HOUR (CDT)

Another layer of stucco and City Hall renovations will be completed. Beautiful new placards have been mounted identifying the historic building.


Submit a classified ad online [Lowest cost for advertising in the county!]
\Community


The Sports Page


County view of animal control and the request to Lincoln to increase service fee

Fall tree care
By John Fulton

CIEDC Head Start preschool program accepting applications

CIEDC scholarship recipients

Reminder: Free mental health screenings

Support group explores divorce-related topics
'Facing My Loneliness'

Oasis update

Lincoln College scholarships:

Nicole Tripplett receives Bree Scholarship

Three receive J. Richard Gehlbach Scholarship