Now that there are cell phones and fax machines and email addresses, it's hard to find and contact local businesses to get what you need.... until now: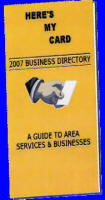 The Logan County Business Directory is now available in both the print and ONLINE versions. Ask for the print edition at Logan County businesses.

Click on this button in LDN for the
ONLINE edition.