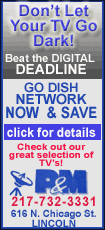 To the editor:

The Abraham Lincoln Bicentennial Commission of Lincoln, Illinois, is deeply appreciative of the tremendous show of support from the entire community for the "Abraham Lincoln rally" held at the courthouse on Oct. 16. Approximately 1,500 residents, and several from out of town, were present to witness our living history. From the girls in white dresses, the music, the 1858 campaign signs, to the staging itself, it was an incredible sight to behold. We thank all the teachers, students and administrators for your allowing part of your school day to attend and participate. You really added to the spectacular nature of the event.

So many others need thanks for the time and effort they put forth.

A special thanks to Wanda Lee Rohlfs and Main Street Lincoln, who spent a great amount of time in the logistical planning. Thanks to Abraham Lincoln Tourism Bureau of Logan County and the city of Lincoln for your financial support and planning.

Thank you to Habitat for Humanity of Logan County for donating time to build the stage and to Alexander Lumber for donating the wood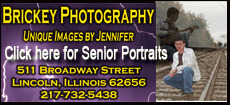 .
Thank you to Jim and Deb Rohrer and to Irwin Conklen for use of the wagons, and to Gene Rohlfs and Roger Matson for transporting them downtown.
Thank you to Lincoln Community High School students and Joyce Hubbard, Cheryl Spove and Leslie Kroeger for the constructing the terrific banners used in the rally.
Thank you to the Lincoln Courier, Lincoln Daily News, WLCN and other media outlets for promoting the event.
Thank you to Wayne Morris for your videography.
Thank you to Tim Searby for lending your great voice to the rally.
Thank you, Leigh Henson, for developing the script and serving as "speechwriter" for Abraham Lincoln.
We also thank Sean Leonard for your wonderful performance as Lincoln.
[to top of second column in this letter]
Thank you to the girls in white dresses: Brianna Batley, Madison Bishop, Molly Buss, Katelyn Cecil, Alyssa Colgan, Kelsey Fults, Tiffany Houghton, Amanda Jones, Kiersten Meagher, Kelly Knecht, Raeann Sheley, Rachel Skelton, Ellen Splain, Katie Treakle and Shelby Voyles.
Thanks also go to the following individuals and businesses: Kathy Vinyard, St. John United Church of Christ, the city street, fire and police departments, Sheriff Nichols, the Logan County Board, Jackie Baker, Chuck and Judy Conzo, Glenn Brunk Stationers, IGA, Sorrento's, Guzzardo's, Joe's Pizzeria, Lincoln Christian College and Seminary, Lincoln Christian Church, Martin Holden, Tom Kavelman, Scott Jones, Chris Elam, Richard Sumrall, Brian Messner, Todd Spellman, Mercedes Rohlfs, Paul Beaver, Darlene Begolka, Ron and Marilyn Craig, John Sutton, Mary Ellen Martin, Bill and Jean Gossett, Kathy Horn, Jonie Tibbs, Ivan and Elaine Ray, Cliff Sullivan, JoAnne Marlin, Terry Carlton, Dr. Yeh, Jon Diers, Pat and Gary Freese, and any others whom we may have inadvertently omitted.
As you can see, this was truly a community effort. We believe Abraham Lincoln would be proud to see that his namesake town not only has amounted to a great deal, but also that we have recognized the importance of our heritage and reflected upon the ideals that make our city and country a great place to live.
Sincerely,
Abraham Lincoln Bicentennial Commission of Lincoln, Illinois
(Ron Keller)
[Posted October 24, 2008]
Click here to send a note to the editor about this letter.
Previous related postings

Dateline: Oct. 16, 1858 / Oct. 16, 2008