_______
(Below is a more detailed list of the articles above.)
Cold water, warm hearts: Polar Plunge brings in $25,000
Front page March 23, 2009
Polar Plungers take on frigid waters at Lincoln Lakes.
Saturday the community saw the first Polar Plunge, and it was a day that will begin a storied tradition. The event to help raise funds for Special Olympics far surpassed the goal of raising $10,000. The 122 plungers turned in $25,279.69 in donations.
___
Relay for Life ignores the weather
Fundraisers walk at LCHS gymnasium
Picture page June 20, 2009
___
Workin' at the dog wash blues
Humane Society dog wash cleans up again
Picture page June 29, 2009
___
State Bank of Lincoln buys John Warner Bank
July 3, 2009
Friday morning the offices of the John Warner Bank of Clinton, which were closed by banking regulators, will open for business as branches of the State Bank of Lincoln.
In an agreement made with the FDIC late Thursday, the Lincoln bank agreed to assume all assets and deposits of the failed John Warner Bank.
___
4th of July parade goes despite rain
Picture page July 6, 2009
___
New City Clerk Denise Martinek digs in
New software, accounting, cleaning and a good team highlight 1st months
July 8, 2009
For the Republican nominating committee, having Denise Martinek agree to run for city clerk of Lincoln may have been a fine example of "Third time is a charm." But for Martinek, it might be more appropriate to call it an act of fate.
After the unanticipated resignation of Melanie Riggs in February, the nominating committee had to fill a blank spot on the ballot for the April election. They first called on Susan Gelhbach, assistant city clerk, who acted as interim clerk. But, Gehlbach respectfully declined.
___
Kiwanis presents awards to outstanding Logan County 4-H members
July 15, 2009
The Lincoln Kiwanis Club yesterday presented awards to outstanding Logan County 4-H club members. The following individuals were chosen as outstanding 4-H members from their clubs: Miriam Carter, The Pioneers; David Fulton, Chester 4-H; Holly Klockenga, Wide-A-Wake 4-H; Rachel Skelton, Middletown 4-H'ers; and Hayden Zimmer, Cloverdale 4-H.
Rachel Skelton was recognized as the overall winner and outstanding Logan County 4-H member. She received the Armin Fricke Memorial Award, which was presented by Mike Booher and sponsored by the Lincoln Kiwanis.
___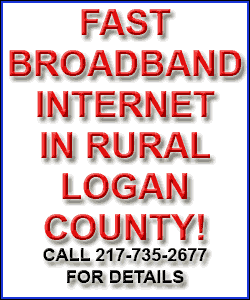 Best Western hotel chain welcomes Lincoln Inn
July 16, 2009
Best Western International announces the addition of the Best Western Lincoln Inn, located at 1750 Fifth St. in Lincoln. Owned by Paresh Patel, this hotel offers 58 guest rooms, including three suites.
Hotel amenities include a 24-hour fitness center and a complimentary hot breakfast. Each room is equipped with a 32-inch plasma television and complimentary high-speed Internet access. For the business traveler, the hotel offers a business center with complimentary printing and faxing services and 350 square feet of meeting space to accommodate up to 25 people.
___
Personalities of the Week
What makes a community great? All of you
July 20, 2009
This week we are doing something important: pausing to reflect. Ten months ago, when we began our Personality of the Week feature on Mondays, we thought it was a real good idea. Your readership numbers and positive feedback to these stories tells us it was a great idea.
We felt highlighting individuals in this community that deserve special recognition was a positive attempt to show what the best in us can produce, not only as one person or one group, but as a community.
___
A fun day at The Mill marks 80th anniversary
Lively stories of yesteryear, recognitions, music, food and more celebrate historic Route 66 icon
July 27, 2009
On July 25, 1929, Paul Coddington opened a humble sandwich shop along what was then Route 4. He called his little business the Blue Mill.
On Saturday, The Mill marked its 80th anniversary, to the date.
A celebration began at noon and lasted into the night, as folks came and toured the site, inside and out; reminisced over times past; and shared a few good stories about the infamous Blossom Huffman, who with her husband, Albert, purchased The Mill in 1945. There was also ample time given to another colorful patron of the Mill, "Coonhound" Johnny.
___
Habitat dedicates Dahmm Corner
July 28, 2009
The corner of Lincoln Avenue and Hamilton Street sports a new sign that reads "Habitat's Dahmm Corner." A dedication at noon on Saturday honored George Dahmm and Wallace Dahmm, for whom the corner is named. Three Habitat for Humanity homes located on that corner are at 1305 Lincoln Ave., 1301 Lincoln Ave. and 524 N. Hamilton St.
Tonita Reifsteck, current president of the local Habitat affiliate, introduced Bill Sahs, founder and first president of Habitat of Logan County. Sahs then recognized George and Wallace Dahmm for their contributions to Habitat. Representing the Lincoln City Council was Les Plotner, who spoke of the role of Habitat in the community and the county. Also present at the ceremony were two of the Habitat families who live on the corner.
___
Local soldiers return home from Afghanistan
Front page July 31, 2009
[LDN]