This week's LCDPH flu fact
It's NOT too late to vaccinate

Send a link to a friend
[January 13, 2010] Now that it's the new year, resolutions are in order. For those of you who haven't gotten your vaccine against 2009 H1N1 flu yet, getting vaccinated should be at the top of your list. Just by taking the simple step to get vaccinated, you are helping to protect yourself, your family members and others around you.
The peak of influenza doesn't usually hit until January or later, so vaccination can still protect you and your loved ones against flu, even this late into the season. National Influenza Vaccination Week, Jan. 10-16, was created to highlight the importance of continuing influenza vaccination and to encourage more people to get the flu vaccine after the holiday season.

Most have realized over the past year that influenza is unpredictable. We do not know the likelihood of a future wave of 2009 H1N1 influenza, but we do know that vaccination is the single best way to reduce the health impact of flu. Since 2009 H1N1 influenza will likely continue into this new year, National Influenza Vaccination Week is an important opportunity to maintain or increase the number of people who get the H1N1 vaccine at a time when demand for vaccine usually drops significantly.

Though more people have received the flu vaccine this year than ever, most people still have not gotten the 2009 H1N1 vaccine. There is still room for improvement among every age and risk group.

The Logan County Department of Public Health continues to have the H1N1 influenza vaccine and the seasonal influenza vaccine available.

The H1N1 vaccine is FREE and the seasonal flu vaccine is $30, or free to those with a medical card or Medicare.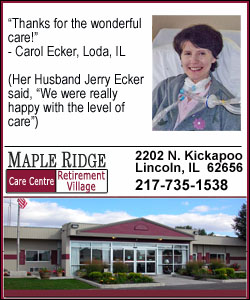 Walk-in clinic hours are Monday through Friday, 7:30 a.m. until 4 p.m. The H1N1 and seasonal flu vaccines will also be available on the HOPE Mobile during its regularly scheduled stops.
For more information, visit www.flu.gov and www.lcdph.org or call the Logan County Department of Public Health at 217-735-2317.
[Text from file received from the Logan County Department of Public Health]
The "flu fact" announcements are sponsored by the Logan County Department of Public Health and the Pandemic Influenza Community Coalition.
Previous postings