"What should I do today?" Through the holiday season there are a lot of activities going on. Make a list, plan your shopping, eat out to avoid cooking, and save gas and time by taking advantage of all the things you can find locally...
Saturday don't leave town to shop. The downtown shops along with the variety of chain stores in Lincoln offer you a tremendous variety to choose from. There are several great downtown locations that have some of the most amazing and unique items.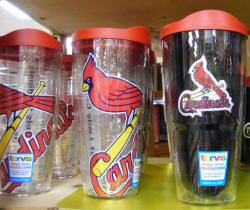 For example, these insulated travel cups are available in your favorite sports fan's favorite team, and you'll find these at ABE'S CARMELCORN SHOP! They are also available in other designs to fit anyone's taste.
While you're downtown on Saturday, don't forget to stop and see Santa at the Owl's Roost, have a sweet treat to keep you going, then do lunch at Mama's Arcade!
More great things to do this weekend
Saturday
Sunday
Sunday church programs: