Send a link to a friend
April 2013
---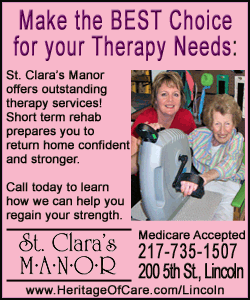 Through April 8
Summer baseball and softball sign-up
SPONSOR: Lincoln Park District
WHO: Kids 5-14
DETAILS: Baseball | Softball
(See publicity.)
WHERE: 1400 Primm Road
Through April 27
Prom dress drive
SPONSORS: Logan County Love, New Beginnings Thrift Shoppe, DonateMyDress.org
WHO: Community
DETAILS: Donate your gently used prom dress.
WHERE: Drop off at New Beginnings Thrift Shoppe, 201 S. Sangamon
Tuesday, April 2
Blood pressure screenings
SPONSOR: Abraham Lincoln Memorial Hospital
WHO: Public
DETAILS: Free blood pressure screenings are available every Tuesday.
WHERE: Wombacher Room at ALMH, 200 Stahlhut Drive
WHEN: 9 am-noon
Wednesday, April 3
Breastfeeding support group
SPONSOR: Abraham Lincoln Memorial Hospital
WHO: New mothers
DETAILS: Weekly breastfeeding support group. Participants will weigh their babies and have an opportunity to share stories and ask questions of a certified lactation consultant. Bring your lunch.
http://www.almh.org/About-ALMH/News/NewsDetail.aspx?id=306
WHERE: Steinfort B at ALMH, 200 Stahlhut Drive
WHEN: Noon-1:30 pm
Mount Pulaski public meeting to discuss post office
SPONSOR: U.S. Postal Service
WHO: Public
DETAILS: (See article.)
WHERE: 114 S. Lafayette St., Family Life Center of Christian Church, across from the post office in Mount Pulaski
WHEN: 1 pm
Friday, April 5
Behind the Scenes program with Mikhail "Misha" Istomin
SPONSOR: Atlanta Public Library program sponsored by Atlanta National Bank and the city of Atlanta
WHO: Public. Ticket admission.
DETAILS: (See article.)
WHERE: North Greens Golf Course Community Room, Atlanta
WHEN: Reception at 6:30 pm; presentation at 7 pm
Saturday, April 6
Ham and bean dinner
SPONSOR: Lincoln First United Methodist Church
WHO: Public
DETAILS: Ham and beans, cornbread, dessert, beverage. All you can eat. All proceeds go to the Volunteers in Mission program of Lincoln First United Methodist Church. Bake sale sponsored by Young United Methodist Men.
WHERE: First United Methodist Church, Zollars Hall, 302 Broadway
WHEN: 11 am-1 pm
Animal rescue fundraiser in memory of Ray Fulk
SPONSOR: Logan County Animal Rescue
WHO: Public
DETAILS: Celebrate the eccentric life of Ray Fulk and meet two Hollywood celebrities he felt a connection with: Kevin Brophy, who starred in the television series "Lucan," and Peter Barton, who starred in the series "The Powers of Matthew Star." Silent auction. Donations accepted at the door, with all proceeds going to Logan County Animal Rescue.
(See article.)
WHERE: Elks Lodge
WHEN: 6 pm-?
Sunday, April 7
Bowling party
SPONSOR: Healthy Communities Partnership
WHO: Families
DETAILS: (See article.)
WHERE: Logan Lanes
WHEN: Noon-3 pm
Annual meeting of Hartem FFA alumni
SPONSOR: Hartsburg-Emden FFA Alumni
WHO: Hartsburg-Emden FFA Alumni members
DETAILS: (See article.)
WHERE: Hartsburg American Legion
WHEN: 6 pm
Monday, April 8
Landscape waste pickup in Mount Pulaski
SPONSOR: City of Mount Pulaski
WHO: Mount Pulaski residents
DETAILS: (See article.) (See city notice.)
WHERE: Mount Pulaski
WHEN: 7 am
Tuesday, April 9
General election
WHO: Registered voters
WHERE: Logan County polling places
WHEN: 6 am-7 pm
Blood pressure screenings
SPONSOR: Abraham Lincoln Memorial Hospital
WHO: Public
DETAILS: Free blood pressure screenings are available every Tuesday.
WHERE: Wombacher Room at ALMH, 200 Stahlhut Drive
WHEN: 9 am-noon
Writing club meeting
SPONSOR: Lincoln Writer's Club
WHO: All welcome
DETAILS: (See article.)
WHERE: Alumni Room of Lincoln College student center
WHEN: 6:30 pm
Wednesday, April 10
Quarterly meeting of DeWitt-Logan retired teachers
SPONSOR: DeWitt-Logan unit of Illinois Retired Teachers Association
WHO: Members
DETAILS: (See article.)
WHERE: Ted's Garage Restaurant, Clinton
WHEN: 10:30 am
Breastfeeding support group
SPONSOR: Abraham Lincoln Memorial Hospital
WHO: New mothers
DETAILS: Weekly breastfeeding support group. Participants will weigh their babies and have an opportunity to share stories and ask questions of a certified lactation consultant. Bring your lunch.
http://www.almh.org/About-ALMH/News/NewsDetail.aspx?id=306
WHERE: Steinfort B at ALMH, 200 Stahlhut Drive
WHEN: Noon-1:30 pm
"Woyzeck"
SPONSOR: Lincoln College Theater Department
WHO: Because of language and subject matter, viewer discretion is advised.
DETAILS: Spring theater production by Lincoln College theater majors. Reservations advised because it is being presented in the smaller space of the Hostick Theater. For reservations, call 217-732-3155, ext. 280.
(See article.)
WHERE: Lincoln College, Johnston Center for Performing Arts
WHEN: 7:30 pm
Thursday, April 11
Bereavement support group
SPONSOR: Memorial Home Services Hospice
WHO: Public
DETAILS: First meeting. "Our support group will provide an opportunity for people to be able to mutually share and support each other," said Bitsy Knepler, bereavement coordinator for Memorial Home Services Hospice. "Those who have suffered a loss can discuss their feelings, gain support from others in a similar situation and know that they are not alone." Meetings are geared for adults and are planned for the second Thursday of each month at the same time and place.
(See article.)
WHERE: Steinfort Meeting Room at ALMH, 200 Stahlhut Drive in Lincoln
WHEN: 5 pm
"Woyzeck"
SPONSOR: Lincoln College Theater Department
WHO: Because of language and subject matter, viewer discretion is advised.
DETAILS: Spring theater production by Lincoln College theater majors. Reservations advised because it is being presented in the smaller space of the Hostick Theater. For reservations, call 217-732-3155, ext. 280.
(See article.)
WHERE: Lincoln College, Johnston Center for Performing Arts
WHEN: 7:30 pm
Friday, April 12
Open Arms Christian Fellowship anniversary celebration
SPONSOR: Open Arms Christian Fellowship
DETAILS: Friday-Sunday celebration
(See publicity.)
WHERE: 311 Broadway
WHEN: 6:30 pm
"Woyzeck"
SPONSOR: Lincoln College Theater Department
WHO: Because of language and subject matter, viewer discretion is advised.
DETAILS: Spring theater production by Lincoln College theater majors. Reservations advised because it is being presented in the smaller space of the Hostick Theater. For reservations, call 217-732-3155, ext. 280.
(See article.)
WHERE: Lincoln College, Johnston Center for Performing Arts
WHEN: 7:30 pm
Saturday, April 13
Running with the Mustangs 5K
WHO: Registered participants
DETAILS: (Registration)
WHERE: NH-M Middle School, Middletown
WHEN: 8 am
Electronics recycling
SPONSOR: Habitat for Humanity of Logan County
WHO: Public
DETAILS: http://www.habitatlogan.org/Events.html
WHERE: Habitat for Humanity warehouse, 915 Woodlawn Road
WHEN: 9 am-noon
Open Arms Christian Fellowship anniversary celebration
SPONSOR: Open Arms Christian Fellowship
DETAILS: Friday-Sunday celebration
(See publicity.)
WHERE: 311 Broadway
WHEN: 6:30 pm
Spring concert
SPONSOR: Lincoln Area Music Society
WHO: Public
DETAILS: Chorale and orchestra concert. Free.
(See publicity.)
WHERE: Lincoln Community High School auditorium, 1000 Primm Road
WHEN: 7 pm
"Woyzeck"
SPONSOR: Lincoln College Theater Department
WHO: Because of language and subject matter, viewer discretion is advised.
DETAILS: Spring theater production by Lincoln College theater majors. Reservations advised because it is being presented in the smaller space of the Hostick Theater. For reservations, call 217-732-3155, ext. 280.
(See article.)
WHERE: Lincoln College, Johnston Center for Performing Arts
WHEN: 7:30 pm
Sunday, April 14
Open Arms Christian Fellowship anniversary celebration
SPONSOR: Open Arms Christian Fellowship
DETAILS: Friday-Sunday celebration
(See publicity.)
WHERE: 311 Broadway
WHEN: 9 am, 11 am, 6:30 pm
Spring barbecue
SPONSOR: Boy Scout Troop 102
WHO: Public
DETAILS: (See publicity.)
WHERE: Knights of Columbus Hall, 217 Limit St.
WHEN: 10:30 am-2:30 pm
Prenatal class
SPONSOR: Abraham Lincoln Memorial Hospital
WHO: Expectant families
DETAILS: Free class. To register, call 217-732-2161, ext. 55231.
(See article.)
WHERE: Steinfort A at ALMH
WHEN: 1-4 pm
Spring concert
SPONSOR: Lincoln Area Music Society
WHO: Public
DETAILS: Chorale and orchestra concert. Free.
(See publicity.)
WHERE: Lincoln Community High School auditorium, 1000 Primm Road
WHEN: 2 pm
"Woyzeck"
SPONSOR: Lincoln College Theater Department
WHO: Because of language and subject matter, viewer discretion is advised.
DETAILS: Spring theater production by Lincoln College theater majors. Reservations advised because it is being presented in the smaller space of the Hostick Theater. For reservations, call 217-732-3155, ext. 280.
(See article.)
WHERE: Lincoln College, Johnston Center for Performing Arts
WHEN: 2 pm
Tuesday, April 16
National Healthcare Decisions Day
SPONSOR: Abraham Lincoln Memorial Hospital
WHO: Anyone 18 and over
DETAILS: The ALMH Care Management team will be on hand for free consultation and assistance to complete or update advance directives, including the durable power of attorney for health care and living wills. Make your wishes known now and protect your family from making difficult decisions for you.
WHERE: Steinfort A/B at ALMH, 200 Stahlhut Drive
WHEN: 7-11 am and 1-4 pm
Blood pressure screenings
SPONSOR: Abraham Lincoln Memorial Hospital
WHO: Public
DETAILS: Free blood pressure screenings are available every Tuesday.
WHERE: Wombacher Room at ALMH, 200 Stahlhut Drive
WHEN: 9 am-noon
Water main flushing in Mount Pulaski
SPONSOR: City of Mount Pulaski
WHO: Mount Pulaski residents
DETAILS: (See article.) (See city notice.)
WHERE: Mount Pulaski
WHEN: 10 pm-4 am
(First of two nights)
This Golden Age Tech Talk program
SPONSOR: Atlanta Public Library series
sponsored by Quiram-Peasley Funeral Home
WHO: Public. Topics of particular interest to people over 50.
DETAILS: Topic: "Simple Social Networking"
(See article.) (See info on library website.)
WHERE: Atlanta Public Library, 100 Race St., Atlanta
WHEN: 6:30-8 pm
Wednesday, April 17
Breastfeeding support group
SPONSOR: Abraham Lincoln Memorial Hospital
WHO: New mothers
DETAILS: Weekly breastfeeding support group. Participants will weigh their babies and have an opportunity to share stories and ask questions of a certified lactation consultant. Bring your lunch.
http://www.almh.org/About-ALMH/News/NewsDetail.aspx?id=306
WHERE: Steinfort B at ALMH, 200 Stahlhut Drive
WHEN: Noon-1:30 pm
Water main flushing in Mount Pulaski
SPONSOR: City of Mount Pulaski
WHO: Mount Pulaski residents
DETAILS: (See article.) (See city notice.)
WHERE: Mount Pulaski
WHEN: 10 pm-4 am
(Second night)
Friday, April 19
American Red Cross Illinois Capital Area Chapter Heroes Breakfast
SPONSOR: Bank of Springfield
WHO: Public
DETAILS: Eighth annual American Red Cross Illinois Capital Area Chapter Heroes Breakfast fundraiser. All proceeds from this special event, which honors a group of of central Illinois residents who have done extraordinary things, benefit American Red Cross Local Disaster Relief. Buy your advance tickets by visiting: http://american.redcross.org/site/Calendar?view=Detail&id=103162.
WHERE: Crowne Plaza, Springfield, 3000 S. Dirksen, Springfield
WHEN: 8-10 am
Diabetes-related health session
SPONSOR: Abraham Lincoln Memorial Hospital
WHO: Public
DETAILS: April topic: Diabetes medications. ALMH dietitian Jennifer DiPasquale, RD, LD, leads the session, providing nutrition education and diabetes-related general health information. This is open to all ages with all types of diabetes and their support teams. For more information, email Jennifer DiPasquale at diabetes@almh.org.or call 217-605-5535.
(See article.)
WHEN: 11 am-noon
Saturday, April 20
Project Sunshine
SPONSOR: Woven Together
WHO: Community
DETAILS: Help breathe new life into the visitation rooms at the Lincoln CYFS, formerly Catholic Charities, by installing carpet, painting, replacing dated furniture, and updating the toys and books. Sign up for a work crew or make a donation. Call 217-445-2018 or go to www.woventogetherlogancounty.org for more information.
WHERE: Center for Youth and Family Solutions, 2100 W. Fifth St., Lincoln
WHEN: 10 am-4 pm
(Continues in the evenings April 22-25)
Spring for Tea
SPONSOR: Harvest of Talents for World Hunger
DETAILS: 10th anniversary event. Tickets sold in advance, beginning Feb. 1 in the Lincoln Christian Church office. Visit the office, 204 N. McLean, or call Vera Thomas at 732-7618.
(See article.)
WHERE: Lincoln Christian Church Fellowship Center
WHEN: Doors open at 10:45 am; tea served at 11:30 am
Dinner for honored alumni of District 27
SPONSOR: Lincoln Elementary School District 27
DETAILS: (See article.)
WHERE: American Legion
3rd Saturday Community Meal
SPONSOR: Logan County Love
WHO: Open to the public
DETAILS: Free meal provided to the public. Everyone welcome. Bring a friend or come alone and enjoy good company among your neighbors and friends.
WHERE: St. John United Church of Christ, 204 Seventh St.
WHEN: 5-6:30 pm
Lincoln College spring dance concert
SPONSOR: Lincoln College Fine Arts Department
WHO: Public
DETAILS: Annual Lincoln College spring semester dance concert with Dance Force and jazz class dancers
(See article.)
WHERE: Lincoln College, Johnston Center for Performing Arts
WHEN: 7:30 pm
Sunday, April 21
Lincoln College spring dance concert
SPONSOR: Lincoln College Fine Arts Department
WHO: Public
DETAILS: Annual Lincoln College spring semester dance concert with Dance Force and jazz class dancers
(See article.)
WHERE: Lincoln College, Johnston Center for Performing Arts
WHEN: 2 pm
Monday, April 22
Project Sunshine
SPONSOR: Woven Together
WHO: Community
DETAILS: Help breathe new life into the visitation rooms at the Lincoln CYFS, formerly Catholic Charities, by installing carpet, painting, replacing dated furniture, and updating the toys and books. Sign up for a work crew or make a donation. Call 217-445-2018 or go to www.woventogetherlogancounty.org for more information.
WHERE: Center for Youth and Family Solutions, 2100 W. Fifth St., Lincoln
WHEN: 5-9 pm
(Continues in the evenings through Thursday)
Tuesday, April 23
Blood pressure screenings
SPONSOR: Abraham Lincoln Memorial Hospital
WHO: Public
DETAILS: Free blood pressure screenings are available every Tuesday.
WHERE: Wombacher Room at ALMH, 200 Stahlhut Drive
WHEN: 9 am-noon
Project Sunshine
SPONSOR: Woven Together
WHO: Community
DETAILS: Help breathe new life into the visitation rooms at the Lincoln CYFS, formerly Catholic Charities, by installing carpet, painting, replacing dated furniture, and updating the toys and books. Sign up for a work crew or make a donation. Call 217-445-2018 or go to www.woventogetherlogancounty.org for more information.
WHERE: Center for Youth and Family Solutions, 2100 W. Fifth St., Lincoln
WHEN: 5-9 pm
(Continues in the evenings through Thursday)
Wednesday, April 24
Christian Women's Conference
SPONSOR: Lincoln Christian University
WHO: Christian women
DETAILS: (See publicity.)
WHERE: Earl C Hargrove Chapel Auditorium, Lincoln Christian University, 100 Campus View Drive
WHEN: Registration at 8 am; conference 9 am-4 pm
Breastfeeding support group
SPONSOR: Abraham Lincoln Memorial Hospital
WHO: New mothers
DETAILS: Weekly breastfeeding support group. Participants will weigh their babies and have an opportunity to share stories and ask questions of a certified lactation consultant. Bring your lunch.
http://www.almh.org/About-ALMH/News/NewsDetail.aspx?id=306
WHERE: Steinfort B at ALMH, 200 Stahlhut Drive
WHEN: Noon-1:30 pm
Project Sunshine
SPONSOR: Woven Together
WHO: Community
DETAILS: Help breathe new life into the visitation rooms at the Lincoln CYFS, formerly Catholic Charities, by installing carpet, painting, replacing dated furniture, and updating the toys and books. Sign up for a work crew or make a donation. Call 217-445-2018 or go to www.woventogetherlogancounty.org for more information.
WHERE: Center for Youth and Family Solutions, 2100 W. Fifth St., Lincoln
WHEN: 5-9 pm
(Continues in the evenings through Thursday)
Thursday, April 25
Blood drive
SPONSOR: Abraham Lincoln Memorial Hospital
WHO: Open to the public
DETAILS: Central Illinois Community Blood Center blood drive. For more information or to sign up, call 1-866-GIVE-BLD (1-866-448-3253), ext. 5158, or sign up through www.bloodcenterimpact.org, Walk-ins are welcome. Bring donor ID or a photo ID.
WHERE: ALMH, 200 Stahlhut Drive. Registration will be in the Wombacher Room.
WHEN: 11 am-4 pm
Project Sunshine
SPONSOR: Woven Together
WHO: Community
DETAILS: Help breathe new life into the visitation rooms at the Lincoln CYFS, formerly Catholic Charities, by installing carpet, painting, replacing dated furniture, and updating the toys and books. Sign up for a work crew or make a donation. Call 217-445-2018 or go to www.woventogetherlogancounty.org for more information.
WHERE: Center for Youth and Family Solutions, 2100 W. Fifth St., Lincoln
WHEN: 5-9 pm
Friday, April 26
Jazz concert
SPONSOR: Lincoln College
WHO: Public
DETAILS: Lincoln College annual spring jazz concert. Ticket admission.
(See article.)
WHERE: Lincoln College, Johnston Center for Performing Arts
WHEN: 7:30 pm
Saturday, April 27
Concert by Lincoln College Chorale and Chamber Singers
SPONSOR: Lincoln College
WHO: Public
DETAILS: Tickets at the box office the evening of the concert.
(See article.)
WHERE: Lincoln College, Johnston Center for Performing Arts
WHEN: 7:30 pm