Send a link to a friend
October 2013
---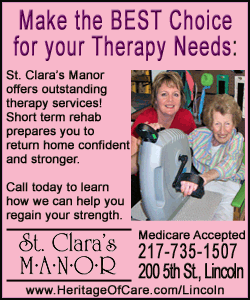 Tuesday, Oct. 1
Blood pressure screenings
SPONSOR: Abraham Lincoln Memorial Hospital
WHO: Public
DETAILS: Free blood pressure screenings are available every Tuesday.
WHERE: Wombacher Room at ALMH, 200 Stahlhut Drive
WHEN: 9 am-noon
Strauss Lectureship
SPONSOR: Lincoln Christian University
WHO: Family and students
DETAILS: This year's Strauss Lectureship features Dr. Darrell L. Bock of Dallas Theological Seminary, editor-at-large for Christianity Today and a well-known author of more than 30 books on biblical topics.
(Details, speaker bio)
WHERE: LCU, 100 Campus View Drive
WHEN: Speaking schedule:
9:30 am -- Undergraduate chapel, Earl C Hargrove Chapel
Noon -- Q&A sack lunch Q&A in Dowling Auditorium
7 pm -- Lecture in Dowling Auditorium
(Lectureship continued on Wednesday)
Wednesday, Oct. 2
Farmers' Market
SPONSOR: Farmers' Market
WHO: Public
DETAILS: Market open Wednesday and Saturday mornings, 8-noon, through October.
WHERE: Latham Park
WHEN: 8 am-noon
Strauss Lectureship
SPONSOR: Lincoln Christian University
WHO: Family and students
DETAILS: This year's Strauss Lectureship features Dr. Darrell L. Bock of Dallas Theological Seminary, editor-at-large for Christianity Today and a well-known author of more than 30 books on biblical topics.
(Details, speaker bio)
WHERE: LCU, 100 Campus View Drive
WHEN: 9:30 am in Dowling Auditorium
(Lectureship continued from Tuesday)
Breastfeeding support group
SPONSOR: Abraham Lincoln Memorial Hospital
WHO: New mothers
DETAILS: Weekly breastfeeding support group. Participants will weigh their babies and have an opportunity to share stories and ask questions of a certified lactation consultant. Bring your lunch.
http://www.almh.org/About-ALMH/News/NewsDetail.aspx?id=306
WHERE: Steinfort B at ALMH, 200 Stahlhut Drive
WHEN: Noon-1:30 pm
Lincoln Farmer's Market
SPONSOR: Lincoln Farmer's Market
WHO: Public
DETAILS: Market open Wednesdays 3-6 pm, Saturdays 7 am-noon, through Oct. 26
http://www.lincolnfarmersmarket.org/
WHERE: Scully Park, 316 S. Kickapoo
WHEN: 3-6 pm
Thursday, Oct. 3
Mount Pulaski Rotary lunch
SPONSOR: Mount Pulaski Rotary Club
WHO: Approved, dues-paying members
DETAILS: Weekly lunch
(More information)
WHERE: Buff's Restaurant on the Mount Pulaski square
WHEN: Noon-1 pm
Friday, Oct. 4
LCU Athletic Golf Scramble
SPONSOR: Lincoln Christian University
WHO: Family and students
DETAILS: Third annual event. Four-person golf scramble with all proceeds benefiting the LCU Athletic Department. Registration fee includes 18 holes, cart, lunch, gift from LCU Athletics and various prizes. For more information, contact Mac Ingmire at 217-732-3168 or mingmire@lincolnchristian.edu. All registration forms are due Sept. 27. Online registration at www.LincolnChristian.edu/athletics.
WHERE: Elks Golf Course
WHEN: Check-in, 9:20-9:55 am. Shotgun start, 10 am.
Saturday, Oct. 5
Lincoln Farmer's Market
SPONSOR: Lincoln Farmer's Market
WHO: Public
DETAILS: Market open Wednesdays 3-6 pm, Saturdays 7 am-noon, through Oct. 26
http://www.lincolnfarmersmarket.org/
WHERE: Scully Park, 316 S. Kickapoo
WHEN: 7 am-noon
Elkhart Farmer's Market
WHO: Public
WHERE: West side of Horsefeathers, Elkhart
WHEN: 7 am-noon
Farmers' Market
SPONSOR: Farmers' Market
WHO: Public
DETAILS: Market open Wednesday and Saturday mornings, 8-noon, through October.
WHERE: Latham Park
WHEN: 8 am-noon
Christian comedian Michael Jr.
SPONSOR: Lincoln Christian University
WHO: All
DETAILS: Christian comedian Michael Jr. will come to LCU to perform as part of Parent Weekend. His appearances include "The Tonight Show," "Comedy Central," "The Late, Late Show," BET's "ComicView," "Jimmy Kimmel Live" and CNN. He has also performed at prestigious comedy clubs across the nation, including The Improv, The Laugh Factory, The Comedy Store, The Punchline, The Comic Strip and Zanies Comedy Club. His versatility takes him from major universities to church events ranging from the 60,000-member Willow Creek Church in Chicago to the 17,000-member West Angeles Church in Los Angeles.
Purchase tickets online at http://brushfire.e-vent.info/events/MichaelJr/Tickets.aspx?Event=28684.
WHERE: Earl Hargrove Chapel, Lincoln Christian University
WHEN: 7 pm
Monday, Oct. 7
Landscape waste pickup in Mount Pulaski
SPONSOR: City of Mount Pulaski
WHO: Mount Pulaski residents
DETAILS: (See article.) (See city notice.)
WHERE: Mount Pulaski
WHEN: 7 am
Habitat night at Culver's
SPONSOR: Habitat for Humanity of Logan County
WHO: Public
DETAILS: Habitat receives 10 percent of the food sales at Culver's from 5 to 8 pm.
WHERE: Culver's, 2530 Woodlawn Road
WHEN: 5-8 pm
Tuesday, Oct. 8
LCU Fall Preview Day/Athletic Preview Day
SPONSOR: Lincoln Christian University
WHO: Family and students
DETAILS: Event will include campus tour, admission and financial aid presentations, student question-and-answer panel, lunch with faculty and staff, chapel, and more. The Athletic Preview Day portion will begin around 3 pm and will include meetings with coaches and current athletes, dinner with the team, as well as team practice or a game. Preview Days are open for high school freshmen to seniors as well as any interested transfer students. Interested students can register online at www.lincolnchristian.edu/visit. Contact Audrey Sackman.
WHERE: LCU, 100 Campus View Drive
WHEN: 8:30 am-2 pm (tentative)
Preview for athletes starts around 3 pm.
Blood pressure screenings
SPONSOR: Abraham Lincoln Memorial Hospital
WHO: Public
DETAILS: Free blood pressure screenings are available every Tuesday.
WHERE: Wombacher Room at ALMH, 200 Stahlhut Drive
WHEN: 9 am-noon
Wednesday, Oct. 9
Farmers' Market
SPONSOR: Farmers' Market
WHO: Public
DETAILS: Market open Wednesday and Saturday mornings, 8-noon, through October.
WHERE: Latham Park
WHEN: 8 am-noon
Breastfeeding support group
SPONSOR: Abraham Lincoln Memorial Hospital
WHO: New mothers
DETAILS: Weekly breastfeeding support group. Participants will weigh their babies and have an opportunity to share stories and ask questions of a certified lactation consultant. Bring your lunch.
http://www.almh.org/About-ALMH/News/NewsDetail.aspx?id=306
WHERE: Steinfort B at ALMH, 200 Stahlhut Drive
WHEN: Noon-1:30 pm
Diabetic self-management class
SPONSOR: Abraham Lincoln Memorial Hospital
WHO: Registered participants
DETAILS: (See article.)
WHERE: Baldridge Education Room at ALMH
WHEN: Sessions 2-4:15 pm and 6-8:15 pm
Lincoln Farmer's Market
SPONSOR: Lincoln Farmer's Market
WHO: Public
DETAILS: Market open Wednesdays 3-6 pm, Saturdays 7 am-noon, through Oct. 26
http://www.lincolnfarmersmarket.org/
WHERE: Scully Park, 316 S. Kickapoo
WHEN: 3-6 pm
Thursday, Oct. 10
Mount Pulaski Rotary lunch
SPONSOR: Mount Pulaski Rotary Club
WHO: Approved, dues-paying members
DETAILS: Weekly lunch
(More information)
WHERE: Buff's Restaurant on the Mount Pulaski square
WHEN: Noon-1 pm
Friday, Oct. 11
"Joseph and the Amazing Technicolor Dreamcoat"
SPONSOR: Lincoln Christian Church
WHO: Public
DETAILS: Tickets available at the church office in early September.
(See article.)
WHERE: Lincoln Christian Church Fellowship Center, 204 N. McLean St.
WHEN: 7:30 pm
Saturday, Oct. 12
Lincoln Farmer's Market
SPONSOR: Lincoln Farmer's Market
WHO: Public
DETAILS: Market open Wednesdays 3-6 pm, Saturdays 7 am-noon, through Oct. 26
http://www.lincolnfarmersmarket.org/
WHERE: Scully Park, 316 S. Kickapoo
WHEN: 7 am-noon
Elkhart Farmer's Market
WHO: Public
WHERE: West side of Horsefeathers, Elkhart
WHEN: 7 am-noon
Farmers' Market
SPONSOR: Farmers' Market
WHO: Public
DETAILS: Market open Wednesday and Saturday mornings, 8-noon, through October.
WHERE: Latham Park
WHEN: 8 am-noon
Moving Forward 5K Run/Walk
SPONSOR: Abraham Lincoln Healthcare Foundation, Memorial Sportscare and business sponsors
WHO: Registered participants
DETAILS: http://www.almh.org/ALHFoundation/Moving-Forward-5K.aspx
(See article.)
WHERE: Edward R. Madigan State Park
WHEN: 9 am
Electronics recycling collection
SPONSOR: Habitat for Humanity of Logan County
WHO: Public
DETAILS: http://www.habitatlogan.org/Events.html
WHERE: Habitat for Humanity warehouse, 915 Woodlawn Road
WHEN: 9 am-noon
Glass recycling collection
SPONSORS: Logan County Joint Solid Waste Agency, Lincoln Woman's Club, Verallia Saint-Gobain Containers and Logan County Fair Association
WHO: Public
DETAILS: Monthly collection of glass for recycling. Glass will be collected only on designated collection days. Collecting container glass only, meaning glass container originally held either a food or beverage item. All colors of glass accepted -- does not have to be sorted by color.
Rinse all containers thoroughly. Labels may be left on containers. Remove all metal or plastic rings and caps from the containers. The glass recycling program reserves the right to reject any glass that does not meet preparation guidelines.
Glass recycling does not accept broken glass, ceramics, dishware, light bulbs, fluorescent lights, window glass or mirrors.
For more information on glass and other recycling programs, call 732-9636 or visit www.co.logan.il.us and select Joint Solid Waste Agency.
WHERE: Logan County Fairgrounds. Use Main Gate entrance, off Postville Drive.
WHEN: 9 am-noon
(Second Saturday of each month from May through October)
New Holland Toys for Tots Cruise-In
SPONSOR: New Holland Firemen
WHO: Public
DETAILS: (See article.)
WHERE: Downtown New Holland
WHEN: 1-4 pm
Tailgating for Logan County
SPONSOR: United Way of Logan County
WHO: Public
DETAILS: (See article.)
WHERE: Maple Club, 1458 Route 121
WHEN: 6-11 pm
"Joseph and the Amazing Technicolor Dreamcoat"
SPONSOR: Lincoln Christian Church
WHO: Public
DETAILS: Tickets available at the church office in early September.
(See article.)
WHERE: Lincoln Christian Church Fellowship Center, 204 N. McLean St.
WHEN: 7:30 pm
Sunday, Oct. 13
"Joseph and the Amazing Technicolor Dreamcoat"
SPONSOR: Lincoln Christian Church
WHO: Public
DETAILS: Tickets available at the church office in early September.
(See article.)
WHERE: Lincoln Christian Church Fellowship Center, 204 N. McLean St.
WHEN: 2 pm
Tuesday, Oct. 15
Blood pressure screenings
SPONSOR: Abraham Lincoln Memorial Hospital
WHO: Public
DETAILS: Free blood pressure screenings are available every Tuesday.
WHERE: Wombacher Room at ALMH, 200 Stahlhut Drive
WHEN: 9 am-noon
Wednesday, Oct. 16
Farmers' Market
SPONSOR: Farmers' Market
WHO: Public
DETAILS: Market open Wednesday and Saturday mornings, 8-noon, through October.
WHERE: Latham Park
WHEN: 8 am-noon
Breastfeeding support group
SPONSOR: Abraham Lincoln Memorial Hospital
WHO: New mothers
DETAILS: Weekly breastfeeding support group. Participants will weigh their babies and have an opportunity to share stories and ask questions of a certified lactation consultant. Bring your lunch.
http://www.almh.org/About-ALMH/News/NewsDetail.aspx?id=306
WHERE: Steinfort B at ALMH, 200 Stahlhut Drive
WHEN: Noon-1:30 pm
Lincoln Farmer's Market
SPONSOR: Lincoln Farmer's Market
WHO: Public
DETAILS: Market open Wednesdays 3-6 pm, Saturdays 7 am-noon, through Oct. 26
http://www.lincolnfarmersmarket.org/
WHERE: Scully Park, 316 S. Kickapoo
WHEN: 3-6 pm
Thursday, Oct. 17
Mount Pulaski Rotary lunch
SPONSOR: Mount Pulaski Rotary Club
WHO: Approved, dues-paying members
DETAILS: Weekly lunch
(More information)
WHERE: Buff's Restaurant on the Mount Pulaski square
WHEN: Noon-1 pm
Caregivers Together
SPONSOR: The Christian Village
WHO: Caregivers and their families
DETAILS: (See introductory article from May.) (See publicity.)
WHERE: Christian Village Senior Apartments, 1500 Seventh St.
WHEN: 1:30-3 pm
Bereavement support group
SPONSOR: Memorial Home Services Hospice
WHO: Public
DETAILS: Meetings are geared for adults. "Our support group will provide an opportunity for people to be able to mutually share and support each other," said Bitsy Knepler, bereavement coordinator for Memorial Home Services Hospice. "Those who have suffered a loss can discuss their feelings, gain support from others in a similar situation and know that they are not alone." Meetings will be the third Thursday of each month at the same time and place.
WHERE: Steinfort Room at ALMH, 200 Stahlhut Drive in Lincoln
WHEN: 6-8 pm
Friday, Oct. 18
"Joseph and the Amazing Technicolor Dreamcoat"
SPONSOR: Lincoln Christian Church
WHO: Public
DETAILS: Tickets available at the church office in early September.
(See article.)
WHERE: Lincoln Christian Church Fellowship Center, 204 N. McLean St.
WHEN: 7:30 pm
Saturday, Oct. 19
Lincoln Farmer's Market
SPONSOR: Lincoln Farmer's Market
WHO: Public
DETAILS: Market open Wednesdays 3-6 pm, Saturdays 7 am-noon, through Oct. 26
http://www.lincolnfarmersmarket.org/
WHERE: Scully Park, 316 S. Kickapoo
WHEN: 7 am-noon
Elkhart Farmer's Market
WHO: Public
WHERE: West side of Horsefeathers, Elkhart
WHEN: 7 am-noon
Farmers' Market
SPONSOR: Farmers' Market
WHO: Public
DETAILS: Market open Wednesday and Saturday mornings, 8-noon, through October.
WHERE: Latham Park
WHEN: 8 am-noon
Germanfest
SPONSOR: St. John United Church of Christ and Oasis Senior Center
WHO: Public
DETAILS: (See article.)
WHERE: St. John United Church of Christ, with parking lot at the corner of Eighth and Maple streets
WHEN: 11 am-3 pm
"Joseph and the Amazing Technicolor Dreamcoat"
SPONSOR: Lincoln Christian Church
WHO: Public
DETAILS: Tickets available at the church office in early September.
(See article.)
WHERE: Lincoln Christian Church Fellowship Center, 204 N. McLean St.
WHEN: 7:30 pm
Tuesday, Oct. 22
Blood pressure screenings
SPONSOR: Abraham Lincoln Memorial Hospital
WHO: Public
DETAILS: Free blood pressure screenings are available every Tuesday.
WHERE: Wombacher Room at ALMH, 200 Stahlhut Drive
WHEN: 9 am-noon
Wednesday, Oct. 23
Farmers' Market
SPONSOR: Farmers' Market
WHO: Public
DETAILS: Market open Wednesday and Saturday mornings, 8-noon, through October.
WHERE: Latham Park
WHEN: 8 am-noon
Breastfeeding support group
SPONSOR: Abraham Lincoln Memorial Hospital
WHO: New mothers
DETAILS: Weekly breastfeeding support group. Participants will weigh their babies and have an opportunity to share stories and ask questions of a certified lactation consultant. Bring your lunch.
http://www.almh.org/About-ALMH/News/NewsDetail.aspx?id=306
WHERE: Steinfort B at ALMH, 200 Stahlhut Drive
WHEN: Noon-1:30 pm
Lincoln Farmer's Market
SPONSOR: Lincoln Farmer's Market
WHO: Public
DETAILS: Market open Wednesdays 3-6 pm, Saturdays 7 am-noon, through Oct. 26
http://www.lincolnfarmersmarket.org/
WHERE: Scully Park, 316 S. Kickapoo
WHEN: 3-6 pm
Thursday, Oct. 24
Mount Pulaski Rotary lunch
SPONSOR: Mount Pulaski Rotary Club
WHO: Approved, dues-paying members
DETAILS: Weekly lunch
(More information)
WHERE: Buff's Restaurant on the Mount Pulaski square
WHEN: Noon-1 pm
Saturday, Oct. 26
Lincoln Farmer's Market
SPONSOR: Lincoln Farmer's Market
WHO: Public
DETAILS: Market open Wednesdays 3-6 pm, Saturdays 7 am-noon, through Oct. 26
http://www.lincolnfarmersmarket.org/
WHERE: Scully Park, 316 S. Kickapoo
WHEN: 7 am-noon
Farmers' Market
SPONSOR: Farmers' Market
WHO: Public
DETAILS: Market open Wednesday and Saturday mornings, 8-noon, through October.
WHERE: Latham Park
WHEN: 8 am-noon
Harvest of Talents
SPONSOR: Harvest of Talents for World Hunger
WHO: Public
DETAILS: 30th anniversary event. Proceeds to International Disaster Emergency Service.
WHERE: Lincoln Christian Church, 204 N. McLean
Sunday, Oct. 27
Prenatal class
SPONSOR: Abraham Lincoln Memorial Hospital
WHO: Expectant families
DETAILS: The prenatal classes offered at ALMH are free to expectant parents. Mothers and their partners will learn about when to come to the hospital, what to expect during labor and delivery, pain relief options, breathing techniques and more. The Lamaze approach is taught as a basis to increase each mother's confidence in her ability to give birth and to learn simple coping strategies for labor, including focused breathing, massage techniques, positioning and relaxation. The classes are taught by an experienced member of the ALMH obstetrics team and include in-depth explanations of birthing options, including cesarean delivery, induction of labor and medications. Partners will also learn about how to support mothers on the big day. Attending the class together and gathering information often helps lessen anxiety for the much-anticipated birth of a child. The class will also include a tour of the ALMH Family Maternity Suites. Please register for the class by calling the Family Maternity Suites anytime at 217-732-2161, ext. 55231. The class is offered again Dec. 8.
WHERE: ALMH, 200 Stahlhut Drive, Lincoln, Steinfort A
WHEN: 1-5 pm
Tuesday, Oct. 29
Blood pressure screenings
SPONSOR: Abraham Lincoln Memorial Hospital
WHO: Public
DETAILS: Free blood pressure screenings are available every Tuesday.
WHERE: Wombacher Room at ALMH, 200 Stahlhut Drive
WHEN: 9 am-noon
Wednesday, Oct. 30
Farmers' Market
SPONSOR: Farmers' Market
WHO: Public
DETAILS: Market open Wednesday and Saturday mornings, 8-noon, through October.
WHERE: Latham Park
WHEN: 8 am-noon
Square Talk
SPONSOR: Main Street Lincoln and Jacy Group
WHO: Business owners
DETAILS: Topic: "Effective Planning" (1-page planner)
(See article.)
WHERE: Main Street Lincoln office, 101½ S. Kickapoo St., Suite 13
WHEN: 11:30 am-1 pm
Breastfeeding support group
SPONSOR: Abraham Lincoln Memorial Hospital
WHO: New mothers
DETAILS: Weekly breastfeeding support group. Participants will weigh their babies and have an opportunity to share stories and ask questions of a certified lactation consultant. Bring your lunch.
http://www.almh.org/About-ALMH/News/NewsDetail.aspx?id=306
WHERE: Steinfort B at ALMH, 200 Stahlhut Drive
WHEN: Noon-1:30 pm
Thursday, Oct. 31
Mount Pulaski Rotary lunch
SPONSOR: Mount Pulaski Rotary Club
WHO: Approved, dues-paying members
DETAILS: Weekly lunch
(More information)
WHERE: Buff's Restaurant on the Mount Pulaski square
WHEN: Noon-1 pm