Send a link to a friend
August 2013
---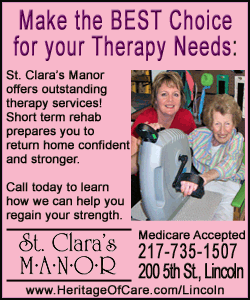 Wednesday, Aug. 28
Farmers' Market
SPONSOR: Farmers' Market
WHO: Public
DETAILS: Market open Wednesday and Saturday mornings, 8-noon, through October.
WHERE: Latham Park
WHEN: 8 am-noon
Square Talk
SPONSOR: Main Street Lincoln and Jacy Group
WHO: Business owners
DETAILS: Topic: "Crucial Confrontations" -- Tools for resolving broken promises, violated expectations and bad behavior
(See article.) (See latest article.)
WHERE: Main Street Lincoln office, 101½ S. Kickapoo St., Suite 13
WHEN: 11:30 am-1 pm
Breastfeeding support group
SPONSOR: Abraham Lincoln Memorial Hospital
WHO: New mothers
DETAILS: Weekly breastfeeding support group. Participants will weigh their babies and have an opportunity to share stories and ask questions of a certified lactation consultant. Bring your lunch.
http://www.almh.org/About-ALMH/News/NewsDetail.aspx?id=306
WHERE: Steinfort B at ALMH, 200 Stahlhut Drive
WHEN: Noon-1:30 pm
Lincoln Farmer's Market
SPONSOR: Lincoln Farmer's Market
WHO: Public
DETAILS: Market open Wednesdays 3-6 pm, Saturdays 7 am-noon, through Oct. 26
http://www.lincolnfarmersmarket.org/
WHERE: Scully Park, 316 S. Kickapoo
WHEN: 3-6 pm
Thursday, Aug. 29
Mount Pulaski Rotary lunch
SPONSOR: Mount Pulaski Rotary Club
WHO: Approved, dues-paying members
DETAILS: Weekly lunch
(More information)
WHERE: Buff's Restaurant on the Mount Pulaski square
WHEN: Noon-1 pm
Quarter auction
SPONSOR: St. John United Church of Christ Stitchers Group
WHO: Public invited
DETAILS: Proceeds to Angel Tree
WHERE: St. John UCC, 204 Seventh St.
WHEN: Doors open at 5:30 pm with vendors set up. Auction at 6:30 pm.
Running group
SPONSOR: Lincoln Area Running Club
WHO: Runners
DETAILS: The group meets in the front parking lot at the Rec Center on Thursday evenings. All ages, paces and ability levels are welcome. More information available at runninglincoln.webs.com.
WHERE: Meet at Anytime Fitness
WHEN: 6:30 pm
Friday-Monday, Aug. 30-Sept. 2
Delavan Fall Festival
WHO: Public
DETAILS: http://www.delavanfallfestival.com/
(See article.) (See another article.)
WHERE: Lake Park, 501 E First St., Delavan
WHEN: (See schedule.)
Friday, Aug. 30
Landscape waste pickup in Mount Pulaski
SPONSOR: City of Mount Pulaski
WHO: Mount Pulaski residents
DETAILS: (See article.) (See city notice.)
WHERE: Mount Pulaski
WHEN: 7 am
Saturday, Aug. 31
Lincoln Farmer's Market
SPONSOR: Lincoln Farmer's Market
WHO: Public
DETAILS: Market open Wednesdays 3-6 pm, Saturdays 7 am-noon, through Oct. 26
http://www.lincolnfarmersmarket.org/
WHERE: Scully Park, 316 S. Kickapoo
WHEN: 7 am-noon
Elkhart Farmer's Market
WHO: Public
WHERE: West side of Horsefeathers, Elkhart
WHEN: 7 am-noon
Miles for Memories 5K Walk/Run
WHO: Registered participants
DETAILS: Proceeds to Alzheimer's Association, Greater Illinois Chapter, www.alz.org/illinois.
(See article.)
WHERE: Starts at Hudson's Talk of The Town, 115 Gov. Oglesby St.
WHEN: Registration at 7:30 am. Race at 8 am.
Farmers' Market
SPONSOR: Farmers' Market
WHO: Public
DETAILS: Market open Wednesday and Saturday mornings, 8-noon, through October.
WHERE: Latham Park
WHEN: 8 am-noon
Dog wash
SPONSOR: Humane Society of Logan County
WHERE: AutoZone, 1206 Woodlawn Road
WHEN: 10 am-1 pm
LCHS Class of 1983 reunion
WHO: Lincoln Community High School Class of 1983
DETAILS: (See article.)
WHERE: Lincoln Elks Country Club
WHEN: 5 pm