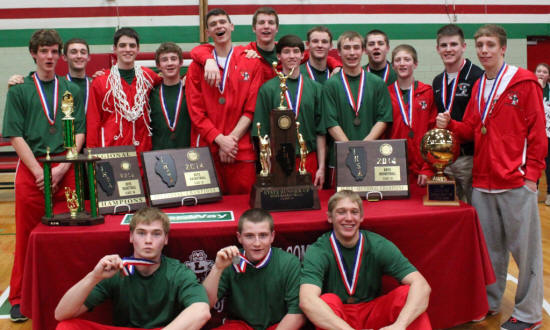 This week's Logan County heroes, the Lincoln Railer basketball team. Sitting, left to right: Edward Bowlby, Jordan Perry and Austin Krusz. Standing: Joey Olden, Payton Ebelherr, Max Cook, Garrett Aeilts, Gavin Block, Adam Conrady, K.J. Fry, Bobby Dunovsky, Aron Hopp, Tyler Horchem, Bryson Kirby, Sam Tiffany and Will Cook.
On Saturday, this team made LCHS history, taking first runner-up in the state basketball championship. Congratulations once again to these spectacular young men; head coach Neil Alexander; assistant coaches Eric Ewald, Gregg Alexander, Brandon Farmer, Josh McClallen, Louis Schonauer and Alan Leigh; athletic trainer Missy Anderson; and athletic director Sam Knox for an amazing 34-3 season. Well played!
And, congratulations to the Railer families, friends and fans who supported the team to this great accomplishment. It took a Railer Nation.
Photo by Debbie Olden (Click on image for larger version.)