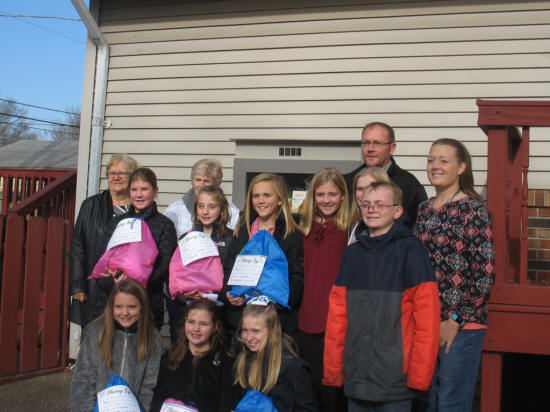 The Hope Grows Community Center in Lincoln recently implemented a "Blessing Box" mini food pantry outside its building. The box will contain food and daily needs items that can be taken by members of the community at will. The Blessing Box was stocked with assistance from the West Lincoln-Broadwell Service Club. Students from WLB put together care packages for the little pantry and delivered them to the community center this week.
Photo by Angela Reiners (Click on photo for larger version)

The Lincoln Odd Fellows Lodge #204 recently helped make Christmas a little brighter for those in need of food. The Lodge collected and presented $400 to the Logan County Food Pantry as well as the food pantry at the Holy Family Catholic Church in town. The checks were presented to the two pantries by Lodge member Michael Starasta.
Photo by Lincoln Odd Fellows (Click on photo for larger version)