Ashlyn N. Carroll of Lincoln, a student at Lincoln College, was recognized as a Student Laureate by The Lincoln Academy of Illinois during the annual Student Laureate Convocation November 11 in Springfield. Pictured left to right are Lincoln Academy Chancellor Stephanie Pace Marshall, Lincoln College President David Gerlach, Illinois First Lady Diana Rauner, Ms. Carroll, and Illinois Governor Bruce Rauner.
Photo by The Lincoln Academy of Illinois (Click on photo for larger version)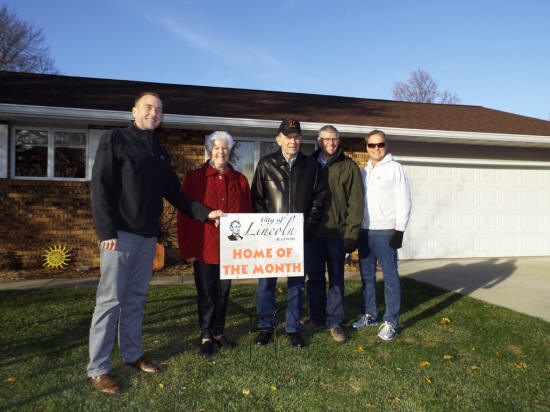 Last Friday afternoon, Maurice and Karen Irwin were presented with the Lincoln Home of the Month award for the month of November. The home was chosen for its lovely fall decor. The Irwin's will have the Home of the Month sign displayed in their yard through the end of this month and were given a gift card as appreciation for their commitment to keeping their property in good condition. The Irwins live in Lincoln's Ward Four on Allison Drive in the Mayfair Addition. Left to right are Lincoln Mayor Seth Goodman, Karen and Maurice Irwin, and Ward Four Aldermen Jeff Hoinacki and Rick Hoefle.
Photo by Nila Smith (Click on photo for larger version)