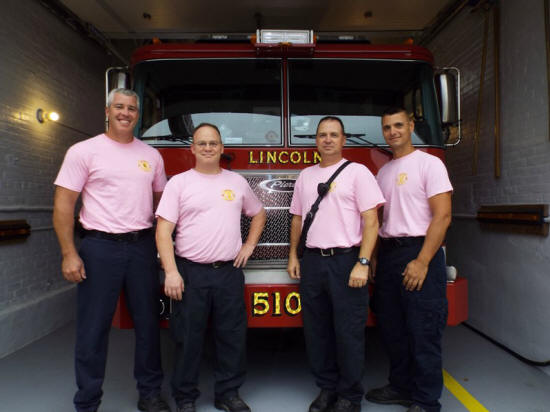 This past Friday members of the Lincoln Fire Department took time out to show us their pink. In partnership with several first response agencies around the community, firefighters began wearing pink on Friday's in October several years ago. The firefighters said the department had gotten involved because of the school visits each October for Fire Prevention and Safety month. They felt that wearing the pink shirts would open the door to conversations about breast cancer awareness and that any opportunity they had to encourage women to get mammograms and be aware of the risk of breast cancer was a conversation well worth having.
Photo by Nila Smith

Show us YOUR pink!
Email photos to ads@lincolndailynews.com
Dawn Irwin (second from right), daughter of Steve and Ann Marie Irwin and member of the Chester 4-H Club in Logan County recently attended the World Dairy Expo as a member of the Illinois 4-H Dairy Judging Team and participated in the National 4-H Dairy Judging Contest.

Dawn placed 1st as an individual in Guernsey with the team placing 3rd of 22 states. Dawn also placed 2nd as an individual in Ayrshire with the team placing 3rd of 22 states. Dawn was also named an All-American award winner. The Illinois 4-H Dairy Judging Team was 6th high team overall.
Photo provided by Patty Huffer (Click on photo for larger version)