Today, our 'Show us your Pink' group is made up of administration and staff from Abraham Lincoln Memorial Hospital The staff at ALMH is very aware that breast cancer is a disease that impacts not only women but their families. The folks at the hospital work to assist patients as they make the journey through their disease. The first key to survival is knowing and understanding what you are up against. ALMH offers 3-dimensional mammography and encourages every woman to be diligent in self-exam and to get their mammograms at prescribed times. "Early detection is so important," says Angela Stoltzenburg of ALMH. "We've seen a slight increase in the incidence of breast cancer in Logan County since 2006 and successive years and also a decrease in women reporting that they are getting their mammograms. The CDC reports that some people have no symptoms at all so you shouldn't wait to have a screening." Today's special feature article on breast cancer is copied with permission from Stoltzenburg from the ALMH website and walks you through the mammography process.
Photo by Roy Logan

Show us YOUR pink!
Email photos to ads@lincolndailynews.com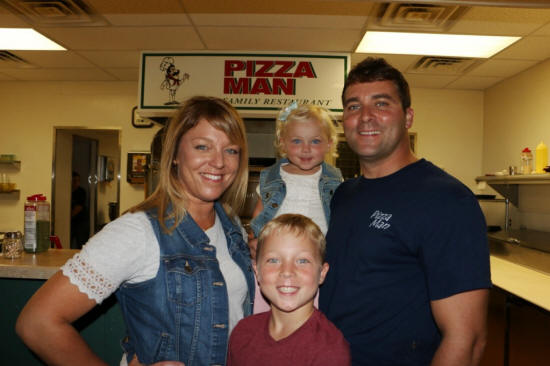 Griffin and Sallie Tschantz along with their children, Beau and Rubi, are pleased to announce their new ownership of Pizza Man of Mount Pulaski. The family restaurant has been a valuable part of the community since 1981.
Photo by Teena Lowery (Click on photo for larger version)