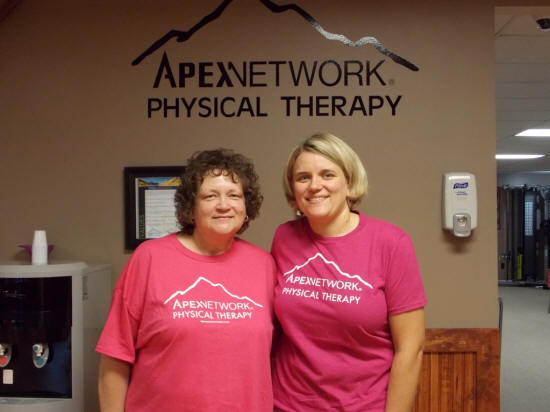 Today, it is two of the lovely ladies from ApexNetwork Physical Therapy who are showing us their Pink. As women, it is important for us to support each other. Wearing pink on Friday's in October is one way for all of us to say we care. We all know someone who has been in the battle against breast cancer. While saying "I care, and I'll be a shoulder you can lean on" may seem like not nearly enough to us, to those who are fighting to keep it together on a daily basis, a good shoulder may be just what the doctor ordered.
Photo by Karen Hargis

Show us YOUR pink!
Email photos to ads@lincolndailynews.com
On Wednesday afternoon, Dr. Don and Jan Sielaff of Lincoln were recognized as the recipients of the October Home of the Month. The Sielaff's home, according to Mayor Seth Goodman, was an obvious choice for the month of Halloween. During the presentation, Goodman noted that the home is a very popular place throughout October, and especially on Trick or Treat night in Lincoln. He thanked the Sielaff's for the effort they make to bring something fun and interesting to their community and the city as a whole.

Left to right: Mayor Seth Goodman, Jan and Don Sielaff, Aldermen Michelle Bauer, Rick Hoefle and Ron Keller.
Photo by Nila Smith (Click on photo for larger version)