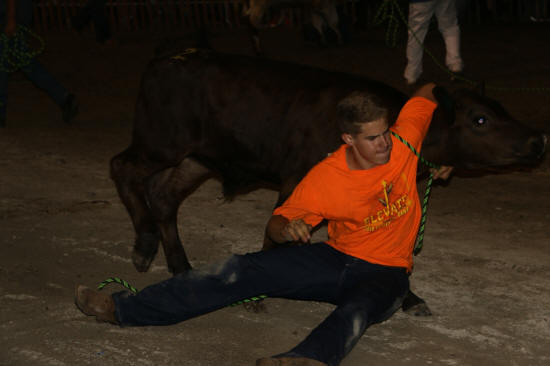 Persistence pays off ~ Addam Hoerbert of the the Hartem Clovers 4-H Club drew the loudest applause from the grandstand crowd at the Logan County Calf Scramble Wednesday, as he roped the last calf of the night. Hoerbert, 16 years old, was drug repeatedly by his calf and never gave up. Hoerbert's determination was incredible and the fans showed their appreciation for his hard work. At the end of it all, he was noticeably exhausted but managed a smile after admitting, "I can't feel my arm." Good job, Addam!

Photo by Teena Lowery (Click on image for larger version)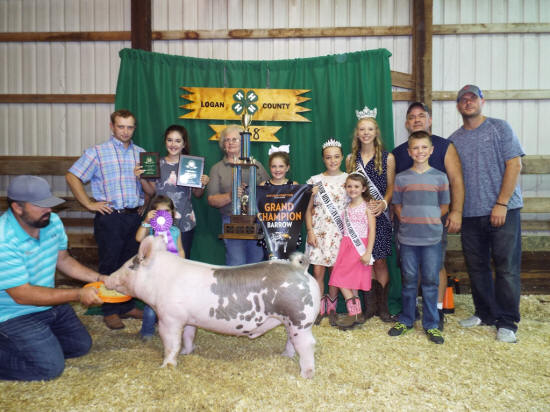 Wednesday livestock shows at the Logan County Fair included the crowning of a new Top Barrow for this year. The honor went to Claire Bobell. Pictured (kneeling with the barrow) Ben Bobell; standing and holding the purple ribbon, Alex Bobell; then standing left to right, Judge Damon Stayon, Ella Bobell, Linda Crane (Donnie Crane Memorial Traveling Trophy sponsor), Claire, Logan County Junior Miss Julia Collings, Little Miss Kylee Fulk, Miss Logan County Fair Queen Molly Schempp; members of the Brett Conrady family, also award sponsors in the barrow class; and Dana Crane.

Photo by Nila Smith (Click on image for larger version)