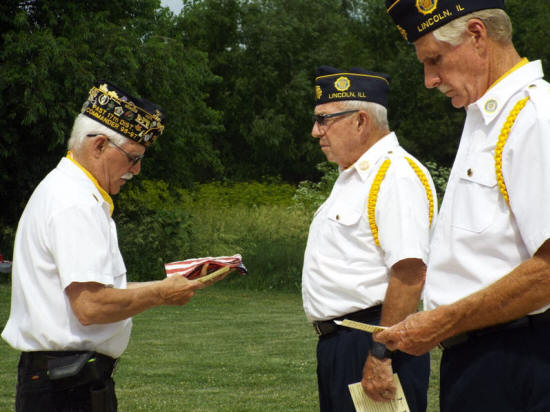 Thursday, June 14th is Flag Day. In honor of the day, the American Legion Post 263 and local chapter of the Daughters of the American Revelation will host a flag retirement and disposal ceremony at the American Legion Post in Lincoln. The public is invited to attend, and may bring flags they feel are no longer good enough condition to be publicly displayed.

The American Legion collects dozens of flags throughout the year, and annually on Flag day host a retirement and disposal ceremony. Prior to the service, all flags turned into the Legion are inspected and verified that they are no longer in fitting condition to be displayed.

During the service on Thursday, members of the American Legion will conduct a ceremony using one flag to represent all, then all the flags marked for retirement will be burned in a bonfire behind the Legion Building.

The DAR will be handing out small flags to all attendees with information attached regarding proper flag etiquette.

Afterward, the DAR will host refreshments of cookies and punch.

In the case of rain or high winds, the ceremony will be rescheduled.

Photo from LDN archives (Click on image for larger version)