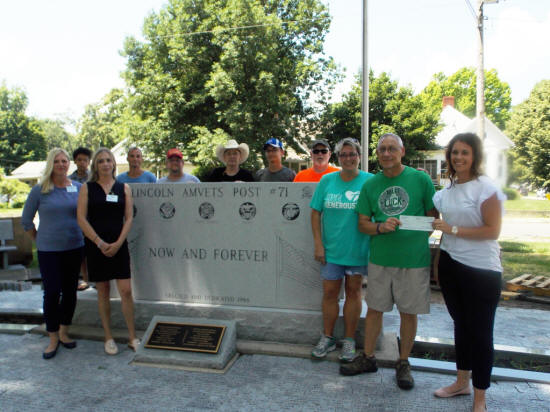 On Tuesday, members of the administrative staff at Generations nursing home in Lincoln delivered food, a big bunch of hostas and a check for $400 to the Veterans groups who are working to refurbish the All Veteran Park in Lincoln. The monument in the center of the park has a strip for plants on either side. The hostas will go into that strip. The cash donation will assist with the cost of pouring concrete and sand into the patio area where engraved bricks featuring the names of Logan County veterans will be re-laid and cataloged by local Boy Scout William Trent.

The gift was given in honor of the veteran residents at Generations.

On the far right, Melanie and Joe Schaler accept a check from Miranda Witt, the administrator at Generations in Lincoln. Others in the photo representing Generations are Michelle Harruff, hospital liaison; and Julie Williamson, admissions coordinator. Behind the stone monument are the volunteers who were working at lunchtime on Tuesday.

Photo by Karen Hargis (Click on image for larger version)

| | |
| --- | --- |
| | Local veteran and resident at Christian Village, Bill Gossett (picture left), raises an American flag on Flag Day at the village. |
The CV celebrated Flag Day with a special service that included the presentation of the flag raised by Gossett from Hal Smith representing U.S. Congressman Darin LaHood. The flag was flown in Washington D.C. on May 29th of this year.

A few moments later, Illinois Representative Tim Butler (above right) would make a second flag presentation to a member of the local Marine Corp League. The flag presented by Butler contained 21 stars, signifying the addition of Illinois as the 21st state in the Union.

Butler acknowledged this is the 243rd year for the United States Army, the 241st Flag Day, and 2018 is the 200th Anniversary of Illinois.

Photo by Mitich Douglas (Click on image for larger version)