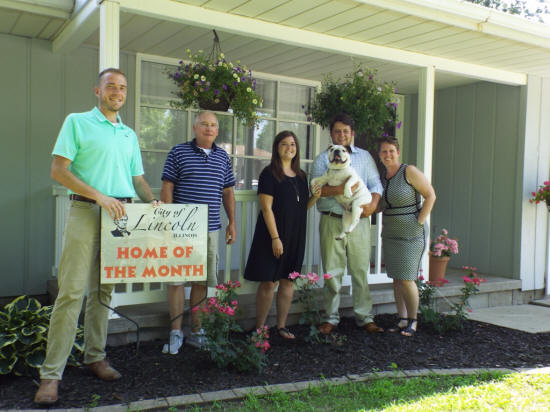 On Monday, Lincoln Mayor Seth Goodman and Ward 2 Aldermen Ron Fleshman and Michelle Bauer presented Anna Maxwell, Dirk Conrady and their four-legged companion Teddy, with the June Home of the Month award. Anna, Dirk and Teddy live at 410 Holly Drive in Lincoln and will have the Home of the Month sign displayed in their front lawn until the first of July when a new awardee will be selected.

Photo by Nila Smith (Click on image for larger version)

Friday evening, visitors to the downtown area in Lincoln had a good time in spite of it being a little warm as the city hosted the first of the season Third Friday. Guests enjoyed fun and games, good music, and good food, including free hot dogs provided by Joe Ryan of Country Financial, and lots of giant bubbles provided by Lincoln College SOAR (Student Orientation, Advising and Registration) leaders.

Photo by Mitch Douglas & Mark Gordon (Click on image for larger version)