Remember a watch means conditions are right, a warning means that it has all come together and the risk is high.
TORNADO WATCH
THE NATIONAL WEATHER SERVICE HAS ISSUED TORNADO WATCH 575 IN
EFFECT UNTIL 3 AM CDT TUESDAY FOR THE FOLLOWING AREAS

IN ILLINOIS THIS WATCH INCLUDES 26 COUNTIES

IN CENTRAL ILLINOIS

CHRISTIAN, DE WITT, LOGAN, MACON, MENARD, SANGAMON, SHELBY

THIS INCLUDES THE CITIES OF CLINTON, LINCOLN, PETERSBURG, AND SPRINGFIELD.
LOGAN COUNTY EMA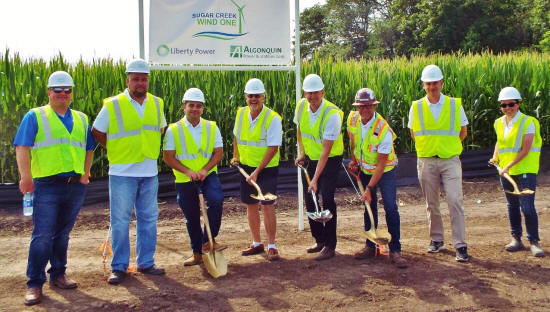 On Thursday, July 25, another big step was celebrated for Sugar Creek One Wind Farm. One of the first steps needed before the construction phase can begin is to have an electrical substation in place. Electricity generated by turbines will go the substation, which Ameren will own and operate, and then enter the grid. To expediting site development, the wind farm owners provided pre-construction grading for the substation that is located about six miles west of Lincoln, adjacent to Route 10.
Administrators and managers for the project were in Lincoln for a landowners meeting and took time to hold a pre-construction ceremony at the substation site. The planning team is excited to see the project getting closer to getting underway as all the state permitting processes and terms of conditions checklist nears completion for building permits to be issued in time for spring 2020 construction. Liberty Power Land and Stakeholder Manager, Brett Manzara said, "The Liberty Power (also known as Algonquin) team is very excited to kick off the construction of the Sugar Creek Wind Project, and want to thank everyone in the community for their support of this important initiative that will bring clean, sustainable energy to the region.
Left to right: From Apex Clean Energy Inc., Scott Koziar; Highlander Renewables Vice President Development Stan Komperda, landowner Doug Muck, and from Liberty Power - Yuri Otarov, Chris Douglass, Chris Edwards, Riley Griffin and Jill Collins.] Jan Youngquist
Photo by Jan Youngquist (Click on Image to enlarge)