The cast and crew of the Lincoln Community High School spring musical production Fiddler on the Roof invite you to come spend an evening with them as they interpret the beloved musical. Fiddler on the Roof takes a light-hearted, serious, sad, funny look at being a parent who was raised to adhere to family and religion traditions, trying to cope with new ideas and compromise, especially for Tevye when it comes to his daughters.

The play will run Thursday, Friday, and Saturday starting at 7 p.m. with a matinee on Sunday at 2 p.m. on the Mac McLaughlin stage at the LCHS school auditorium.
Photo by Mitch Douglas (Click on Image to enlarge)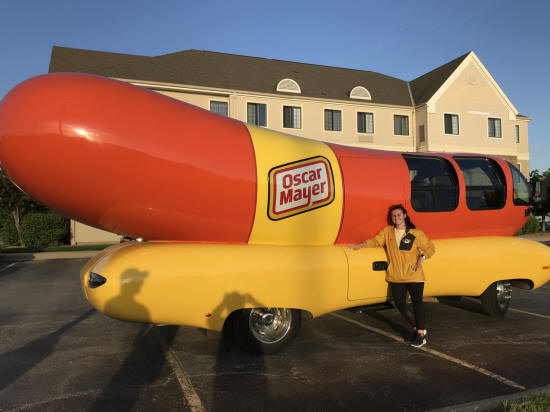 The Oscar Mayer Wienermobile is returning to central Illinois this week and Cady Lowery of Mount Pulaski will be one of the Hotdoggers on board the 27-foot long hotdog on wheels.
Lowery, 23, is a 2014 graduate of Mount Pulaski High School and a 2018 graduate of the University of Missouri. She has been employed by Oscar Mayer since last June as one of twelve Hotdoggers who drive the fleet of six Wienermobiles across the United States. The current class of Hotdoggers will end their one-year commitment this coming June and a new class will take over.
Photo provided by Teena Lowery (Click on Image to enlarge)