If you are missing your snowman, perhaps you should get in touch with Kim Morris to see if her big boy Moe Moe has been by your house lately. Yes indeed, Kim "caught him in the act" of eating the family snowman. His unique taste makes him the winner of the Lincoln Daily News Animals Stories Pet Photo Contest 'Caught in the Act.'

There were 14 entries for this category, and again there were ties that had to be broken before Moe Moe was named the winner.

All 14 are fun pictures of animals just "doing their thing." Be sure to check out all the entries.
Photo from Animals Stories Magazine
[click on picture for larger image]
---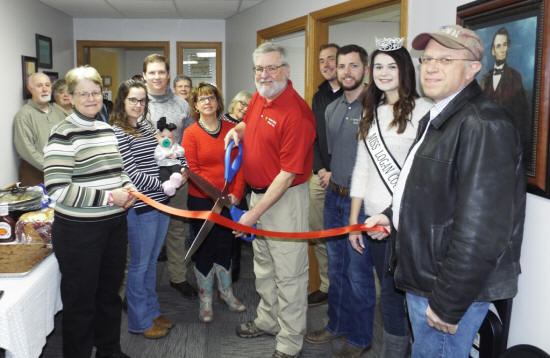 O
n Saturday, the community welcomed another new business to Lincoln. Dr. Dru Hauter prepares to cut the ribbon celebrating the opening of his new medical office, Central Illinois Direct Care at 1411 North Kickapoo Street, Lincoln. A large crowd turned out for the ribbon-cutting, then lingered to enjoy lunch with the Hauter family while learning more about this new type of medical practice.
Photo by Nila Smith
[click on picture for larger image]
Local
Weather

| | |
| --- | --- |
| | Opinions & editorials |
Eric Allie - Illinois Policy Institute [click for larger image]


---
Upcoming
Civic Events
click on buttons for
additional information










---
CLASSIFIED ADS

Auctions

(5 Ads)
(6 Ads)


Employment
(6 Ads)

Garage Sales
(--)

Legal Notices
(--)

(--)


Misc. for Sale
(1 Ad)

Pets/Animals
(--)


(5 Ads)
(4 Ads)

Services
(1 Ad)

Businesses & Franchises for Sale
(--)
| | |
| --- | --- |
| A collection of LDN's finest periodical projects | |
Contact Us:

Lincoln Daily News

601 Keokuk St.

Lincoln, IL 62656

News:
217-737-3613
ldneditor@lincolndailynews.com

Advertising:
217-737-7418
ads@lincolndailynews.com

Locally owned and operated since 2000. LDN is an independent news organization and is not associated with any other local, national or international news organizations.

All rights reserved. Copyright 2020, Lincoln Daily News