The year 2019 was one of the more challenging years in recent memory, with a wet fall in 2018 preventing most of the traditional field work and nitrogen applications. This was followed up with an extremely wet spring season causing a significant amount of planting to be pushed into late May and even June.

The fall of 2019 saw some late harvest dates due to the late planted crop, but field work was interspersed and was mostly completed. Itís always a good feeling going into planting season with a good head start!

Even with the extreme late planted crop in 2019, corn yields in Logan County were respectable at 194.2 bushels per acre average according to the National Ag Statistics Service. This places the 10 year average corn yield at 189 bushels per acre. Logan County did not have enough reported yields on the soybean side to get a county yield. If you look at the report, Logan County is included in the other counties portion of the Central Crop Reporting District, which averaged 62.2 bushels per acre. Sangamon County led the state in both corn and soybean yields with 206.3 bushels per acre corn yield, and 65.5 bushels per acre for soybeans.
On the economics side, Gary Schnitkey at the University of Illinois had put out the 2020 Crop Budgets for Central Illinois High Productivity Farmland in a corn and soybean rotation. He is estimating corn revenues at $835 per acre, $391 direct costs, $125 power costs, and $74 overhead costs, leaving a net of $245 for land costs and operator profit.

For soybeans the numbers are a bit lower at $573 gross revenue, $184 direct costs, $103 power costs, and $68 total overhead costs for land costs and operator profit of $218 per acre. All looks good until you compare the end figures with the average cash rent figures for the county leaving a net loss for both crops.

As noted in previous editions, there is an increasing trend of female farm operators. The 2017 Census of Agriculture reports over 25% of the producers in Logan County were female. Another interesting note was over 20% of producers were in the new and beginning farmer category. And, 49% of Logan County farms have sales of over $100,000, while 24% have sales of less than $2,500. The total value of the products sold from Logan County farms in 2017 was $245,684,000.

Specialty crops continue to be of interest to local producers. Relatively new crops for producers to consider are industrial hemp, and even marijuana for medical and recreational use. Along with these new ventures comes a tremendous amount of paperwork, including permits and their associated fees. Many new agriculture and horticulture related jobs are being created to support these industries. More traditional enterprises being pursued include specialty livestock, edible produce, fall decorative items, and farm entertainment activities.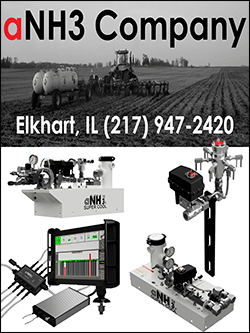 Production agriculture continues to be one of the most dangerous occupations. There have been recent instances of tragic accidents and even deaths in our state. Farmers and first responders do have an opportunity to learn about safety in many areas including grain handling systems and grain storage bins. If you are in the industry, or serve as a first responder, by all means take advantage of a workshop offered by the Grain Handling Safety Coalition. You will learn about safety equipment and procedures, as well as the common sense practices to stay safe in these systems. For all of us, with increased equipment traffic on roads, everyone needs to be mindful of the size of the equipment and the speed it travels at. Both equipment and vehicle operators need to remain alert to keep roads safe at all times, but particularly during the busy farming seasons of planting and harvest.
As spring continues to head our way, letís remain positive and look forward to the opportunities agriculture provides to us as individuals, families, and our community.