These trade wars in recent years resulted in higher tariffs and lower purchases of agricultural products, adversely affecting many farmers, though recent deals offer some hope and optimism.

During the long trade war, China was purchasing many agricultural products like soybeans and pork elsewhere. That in turn affected individual producers as higher prices resulted in lower sales. Some farmers found it challenging to achieve sustainable sales volume.

Over the last two years, the United States Government offered a bailout in the form of financial assistance to farmers hit hard by the trade wars. Market Facilitation Payments, often known as Trump bucks, offset the low grain prices and brought substantial aid to farmers. News reports say that some farmers received up to $76 an acre on soybeans.

Local farmers were among those who benefited from these payments. For example, one Fall 2019 Farm Outlook article showed that Logan County producers received over $20 million dollars of nearly $700 M in MFP funds earmarked for Illinois producers. These funds helped the recipients pay bills when grain prices were low and offset the effects of the trade war.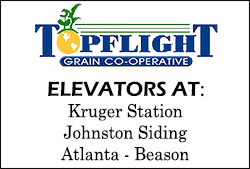 As 2019 ended, the trade war had not been resolved, but there were questions about whether the MFP program would continue. The recent USA Today article "Trump Buck, China Tariffs. Will Farmer Subsidies continue in 2020?" asserts, "the state with the highest payout was Illinois [with] $2.6 billion across years."

Early in 2020, Trump was promising to continue payments through about $28 billion in subsidies earmarked to help farmers impacted by the high tariffs.

Trade Deals appear to offer more hope

Fortunately, two recent trade deals appear to offer a positive outlook with more favorable outcomes for farmers and the agricultural economy.

In late January, Trump signed a trade deal with Mexico and Canada known as the US-Mexico-Canada Agreement that will allow stronger agricultural trade between the countries.

Illinois Farm Bureau President Richard Guebert responded by saying, "This agreement is a great and vital victory that will set the stage for increased agricultural opportunity in 2020 and the years to come. One in every five acres in Illinois is planted to feed Mexican and Canadian consumers."

While expressing optimism about the US-Mexico-Canada agreement, Guerbert also said, "As farmers prepare for the 2020 planting season, hope is on the horizon for our Illinois farmers to sell what they grow."

After months of negotiation between the countries, a phase one trade deal with China was also signed in late January. Like the other agreement, this deal offers hope of bringing back the Chinese market for American farmers and stepping up exports to China.

In the phase one trade deal, China promised to increase the purchase of U.S. agricultural products by an average of $40 billion a year in the next two years. These products include soybeans, corn, beef, pork, cotton and wheat among others.

Various sources show soybeans made up over half of China's purchases from the U.S. before the trade war and soybeans are again expected to be a significant part of China's purchases.


Additionally, China agreed to remove some of the provisions restricting imports of these products. Some of the changes in regulations will even allow China to import genetically modified foods.

Looking back at recent challenges, Guebert commended the Trump Administration for the MFP payments that helped many farmers get through the trade wars. However, in a recent House Ways and Means Committee Hearing, Guerbert said, "We would much rather have expanded trade, and that's why I am optimistic about the recently signed phase-one China agreement."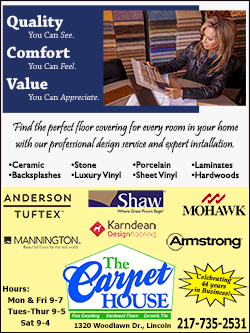 The expected increase in sales should help boost farm economy. As Guebert said, these purchases "will provide a huge and timely economic lift to American agriculture."
The trade deal could have political implications in this election year as Trump's defense against "unfair trade deals" appeals to some rural voters. It is a deal welcomed by some farmers with hopes that it will bring a turn-around in exports.

There is some optimism that negotiations toward a phase two deal could further ease tariffs, open more Chinese markets and allow for more exports. Right now, it is unclear when that deal will happen since those negotiations are expected to take even longer than previous ones. Many analysts do not foresee this deal happening before 2021.

Still, with the recent deals, the future appears to be looking brighter for farmers.

At the American Farm Bureau Federation Conference in January, Trump said, the best years for American farmers are yet to come." Let's hope he is right. Farmers are watching with great interest to see if their soil-tilling experience will parallel the political rhetoric.
Sources:

Burger, Beth. "Farmers received billions of dollars to compensate for tariffs. Will that continue in 2020?" USA Today. 21 Nov. 2019. https://www.usatoday.com/story/money/
2019/11/20/trump-bucks-china-tariffs-farmer-
subsidies-continue-2020/4247648002/
Clayton, Chris. "Ag Waiting on Phase-One Deal Impact: Two Farmers Voice Optimism, Pessimism on China, Trade Disputes." 26 Feb. 2020.
https://www.dtnpf.com/agriculture/web/
ag/news/world-policy/article/2020/02/26/
two-farmers-offer-optimism-pessimism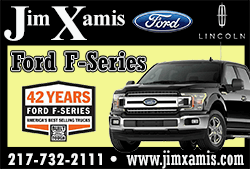 Illinois Farm Bureau. "Statement from the Illinois Farm Bureau Regarding USMCA Presidential Signage." 29 Jan. 2020.
https://www.ilfb.org/media/statement-
from-the-illinois-farm-bureau-regarding
-usmca-presidential-signage/

Rayasam, Renuka and Cather Boudreau. Trump touts promises after painful year for farmers. Politico. 20 Jan. 2020.
https://www.politico.com/news/2020/01/
20/trump-touts-promises-farmers-101135.
Youngquist, Jim. "The Impact of Trump Bucks, Donny Dollars." 8 Nov. 2019. http://archives.lincolndailynews.com/
2019/Nov/08/NEWS/FARMAG110819_JIM.shtml