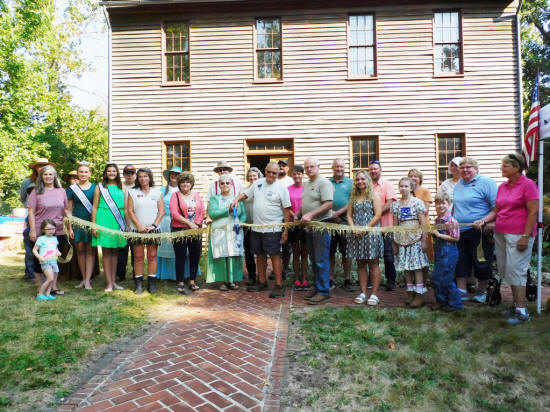 On Saturday morning, the 50th National Railsplitter Festival kicked off in Lincoln with a ribbon-cutting ceremony. Several people gathered to watch as members of the community and the event gathered behind the special gold ribbon celebrating the 50th festival. John and Diana Skelton did the honors of snipping the ribbon.
After the cut, Abraham Lincoln Railsplitter Association president Darlene Begolka, vice president Rob Rankin, and the Skeltons accepted the Lincoln Daily News Community Champion Award. The award was given to recognize all the people, past and present, who have gone above and beyond to keep the festival going, making Lincoln and Logan County a great place to live and visit.

The award was presented by Karen Hargis and Lisa Ramlow of Lincoln Daily News.
Photo by Nila Smith (Click on image to enlarge)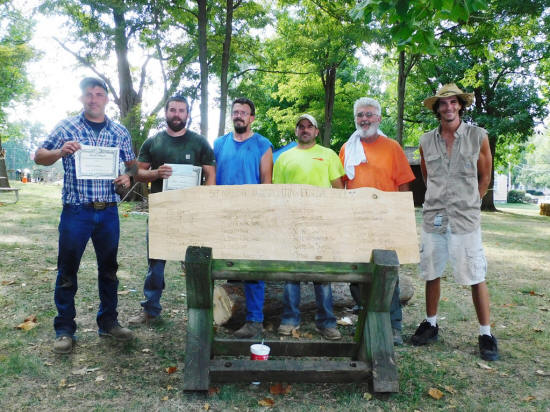 The Professional Rail Split competition was the last contest at the National Railsplitting Festival in Lincoln on Sunday.

Left to right are First place winner Cody Friedlein, second place Zach Darnall, third place Jonathon Norin, fourth place Evan Coombs, and fifth place Chris Friedlein.

Also in the photo is Casey Ballienger on the far right. Ballinger did a remarkable time that could have taken first place without question. However, upon inspection of his rails, it was noticed that two rails were still connected; therefore, he was disqualified. All of his competitors and the judges recognized that it was an unfortunate oversight and that Ballinger could have won easily. Heidi Mueller, who officiated the contest, awarded Ballenginer a hard-luck prize while his fellow competitors congratulated him on his great time.

Photo by Nila Smith (Click on image to enlarge)