On Saturday morning, these young ladies took advantage of comfortable seating at The Station in Elkhart to rest a spell after a morning of shopping.

Elkhart businesses hosted the annual Holiday Open House event, with several downtown locations participating. It was an excellent opportunity to get a sneak peek of what these small businesses offer this holiday season. Several shoppers were taking advantage of the day to do some early shopping.

Small Business Saturday is November 26th. Small businesses throughout Logan County will be looking for you to stop in and shop for a while! After all, who needs Black Friday when there is so much offered by our local small businesses?
Photos by Nila Smith [Click on image for larger version]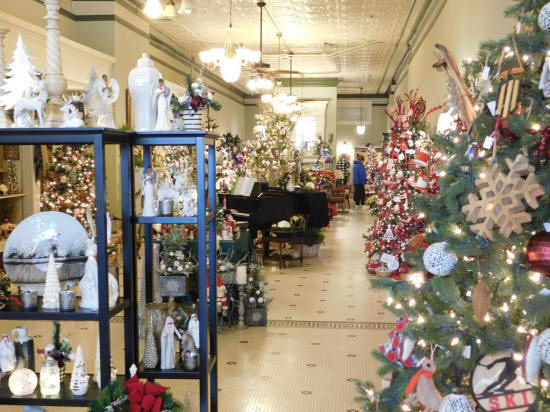 Debbie's Downtown Floral in Lincoln hosted its annual Christmas Open House this past Saturday and Sunday. The store, located on Kickapoo Street across from the Logan County Courthouse, is one of the best places in the county to get a whopping dose of Christmas Spirit. With beautiful decorations and live piano music on Saturday, the spirit of the season filled the air, spreading its warmth to the shoppers who stopped in to see the sights and do a little early Christmas shopping.
Photo by Karen Hargis [Click on image for larger version]

Lincoln Police Chief Matt Vlahovich (left) has announced his impending retirement at the end of the year. At the Monday night meeting of the Lincoln City Council, aldermen supported by unanimous vote the choice of Assistant Chief Joseph Meister (right) to be the next Chief of the city department.

Vlahovich's last day of service to the city will be December 31st, 2022.
Photo by Nila Smith [Click on image for larger version]