The Lynx have 13 players on the squad at the present time; however, the coach has been talking with two or three young ladies on campus about playing, and they could join the fold in the next few days.
LC is slated to open the season with a home game against Florissant Valley Sept. 2 and will then play again the next day at home against Springfield College. "With our lack of depth, back-to-back games could become a problem unless we avoid injuries," Paskvan said.
Lincoln will enter the season with four sophomores, two of them returning letter winners. "Megan Gray and Lisa Rucker return and will play the midfield positions," said Paskvan. "Both have good touch on the ball and get it to the proper position on the field. They both have excellent leadership skills, and we look for them to set the tone for the season."
"Amy Schultz and Leih Cooper are the other sophomores," the Lynx mentor continued. "Amy will play forward, and she has shown lots of speed although she is new to the game of soccer. Leih just joined the team and will play some in goal along with being a sub at other positions.
Gray hails from Woodridge, Rucker is from Mount Zion, Schultz is from Chillicothe, and Cooper is from the Chicago area.
[to top of second column in this article]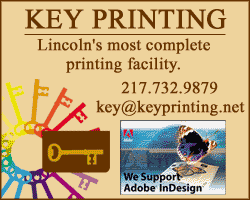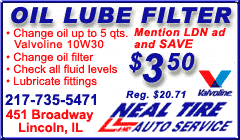 "Three freshmen have shown a lot of promise in the early practice sessions," Paskvan said. "Samantha Marcus (Naperville), Elisa Sommerfeld (Frankfort) and Katti Sitter (Carlinville) have been standouts in our early workouts. For freshmen they have been outstanding in our two-a-day sessions. They have adjusted well to the college game of soccer and also to campus life.
"Amber Price is our only player without high school experience. Amber Diess of Lincoln has been playing well in the preseason, while Pattie Mylniec of Morris and Alice Jones of Homewood will be playing in utility roles and moving around to a lot of different positions.
"We will use Cortney Baumann (Barrington) in goal. She has exceptional hands and comes to us from the softball team.
"I look for Lewis & Clark to be the class of the conference, as they are contenders each and every year. We hope to compete, and I feel we can accomplish that with the type of players we have on our roster."
Paskvan, who hails from East Moline, played at Lincoln College for coach Mark Howard during the 1991-93 soccer seasons and has been assistant coach to Howard for the past three years. Paskvan also is an assistant swimming coach at Lincoln College.
"I hope to build a good soccer program, and I know it is going to be a challenge, as we have gone through some tough times over the past few years in a relatively new sport," he said.
[Bill Martinie, Lincoln College
sports information director]