Downtown building transitions
from grocery store to church,
now funeral home

Send a link to a friend
[NOV. 28, 2003] Lincoln native Christopher Bennett is returning to his hometown for new opportunities and a chance to start a new business. He and his wife, Lesleigh, who is originally from Herrin, are the proud new owners of Bennett Funeral Home, located at 620 Pulaski St.
The building has been financed by Logan County Bank and was purchased from Kingdom Life Ministries on Nov. 10. Kingdom Life Ministries has since moved to the APAC building, located at 2500 Woodlawn Road, for a larger facility.
Most Lincolnites remember the Pulaski Street building being home to the Red Fox grocery store several years ago. The Bennetts have hired Webster Construction, painter Michael Simonson and architect J.H. Petty out of Springfield to turn this building into a spacious funeral home and its property into a 60-car parking lot. The Bennetts will reside in the back part of the building, which is being completely renovated for their living quarters.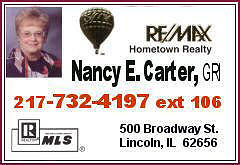 The renovation plans include several fresh changes that will help provide homelike comforts and easy access to the building. A carport for funeral processions will be attached to the building and will hold about six cars. A family lounge with a kitchen area will provide the capability to form all guest lines inside the building.
[to top of second column in this article]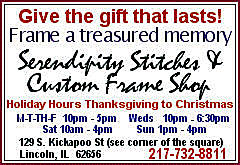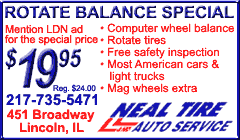 Together, the Bennetts have over 11 years experience working in the funeral home business. During those years they have also compiled an extensive list of educational attainments, scholarships, certifications and memberships.
In addition to his experience as a funeral home director, Christopher is a veteran of the U.S. Marine Corps and Reserves. He was a combat engineer and received an honorable discharge after serving from 1992 to 1999.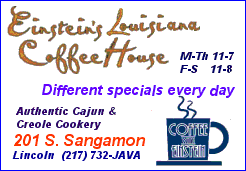 The Bennetts plan to be open for business by the early part of February 2004.
[Janell Woolard]