How about the news from Cutler-Hammer? First of all, they may be the county's largest employer, factoring in somewhere around the 680 job mark. That includes the recent hiring of some 60-70 personnel. Once again, the end of the winter months is not necessarily the time of year you might expect to see those kinds of jobs become available. According to Patti Becker, human resource manager, that news was not surprising when you consider that the plant showed record sales and profits for 2002.
Maybe I'm too inexperienced to know good news when I hear it, but that sounds like something the community ought to celebrate! When I know that one place let a few hundred people go and another place picks up 60 or more, that is at least a help, if not a step in the right direction.
Because the product they produce is directly related to the housing market, once again you might not have expected that strong a showing in this economy. However, with the residential markets showing a 30-year low in interest rates and perhaps a bump in housing starts, if not in remodels, you might see record sales again in 2003.
When was the last time you or anyone in the county thanked a business like Cutler-Hammer for doing business here? I'm going to do it publicly right here, right now. Thank you, Cutler-Hammer, for not only continuing to do business here, but for continuing to grow and helping to stabilize our local economy.
I'll go you one better. What can we do to ensure your longevity? Are there any potential businesses or manufacturers that we can try to attract that will lessen your cost of doing business here and ultimately help us all in the long run? Are there any business tips that you can pass on to us that might make us more effective in charting our future course?
I'll be visiting again soon to follow up this discourse. I always suspected that good things were happening right underneath our noses, but I didn't suspect this much good news.
Another example would be the rise of Lincoln College. Under the strong leadership of Dr. Jack Nutt, the "Lincoln experience" has been felt nationwide. A local business leader recently remarked that LC is one of less than 20 private junior colleges in the nation. Dr. Nutt surrounded himself with great people, and the result has been explosive growth. Vice presidents like Tom Zurkhammer, Allen Pickering and Rod Rumler have not only done the job for Lincoln College, but they've also had a very positive and favorable effect on Logan County. Not a bad residual when capital campaigns come into the picture.
And now the torch has been passed to Ron Schilling. If he and Dr. Nutt are not a prolific one-two punch, I don't know who is. Mr. Schilling has been a great ambassador for LC for a number of years. I would expect those experiences to pay rich dividends for Lincoln College's immediate and long-term future.
And I haven't even mentioned that they've raised a few million dollars toward their capital campaign goals and that their enrollment is currently the highest it has ever been!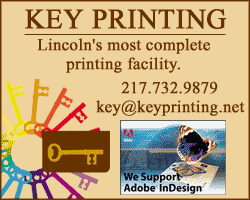 I know I'm not all that clever, but I do think these things should be celebrated too! I'm not just informing you of these facts because those people are my friends (isn't it funny how well the faculty, staff and students of these two colleges get along… I wonder if we could learn anything from them?), but do you have any idea how much economic impact a place like Lincoln College has on a community like ours? How about the tune of between $14 million and $15 million?!
I have it on good authority that that other college on the east side of town, Lincoln Christian College and Seminary, has an economic impact of over $20 million. I've also spoken to Heartland College's Kristi Powell, and they too are at an all-time high enrollment. College students shop, eat out and buy gas, just to name three. I think I'm going to celebrate that too.
Speaking of celebrations, we may have some more to celebrate soon. Rumors continue to surface regarding the number of potential businesses hoping to open throughout the county and the city. In addition, there has been some interest from two or three businesses hoping that eventually there will in fact be a commerce park on the north side. There are likely other developments in negotiation that we know nothing about. Not every potential business takes advantage of our services and resources. Very few developers take the time or the opportunity to call us about the projects they are working on. As we field a number of calls and visits in the chamber and EDC offices, we do everything in our power to remove obstacles and meet the client's needs. Hopefully, we will choke you with more good news than you can possibly stand this summer.
Do I have some concerns? Yes, I do. Our infrastructure concerns me. As our culture ages, I'm not sure we're prepared to serve and service our seniors to the degree of respect that they deserve. If our answer to education is always going to be to throw out another referendum, than I'm troubled what kind of a future my son and his buddies have awaiting them here in Logan County. And while we're at it, we have a great bunch of teachers and other educators who ought to be celebrated as well.
But I'll let you in on a little secret. I didn't take this job for the fame and fortune. I got tired of hearing how Logan County was going to hell in a hand basket. I stupidly stepped forward and decided to try to do something positive that might help us now and that might really help us somewhere down the road. My efforts have been meager and victories few and far between, these first 2½ months. My pledge to you is that I will continue to keep the Lincoln-Logan County banner flying high in a positive, exciting manner. And yes, there's room on this bandwagon for you!
(Note: As time allows, I hope to visit as many businesses, manufacturers and developers as I can to share their good news with the residents of Logan County.)