Western corn rootworms
in first-year corn

Send a link to a friend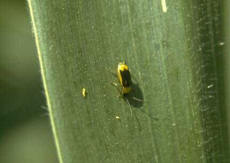 [OCT. 6, 2003] Logan County has been on the fringe of an area that has seen damage from corn rootworms on first-year corn following soybeans. What this means for Logan County is that some plants showed some damage, but entire fields didn't meet the threshold for treatment. Dr. Kevin Steffey has recommended insecticide use on first-year corn for the past two growing seasons for Logan County fields, based on data from the prior years. I'm sure this year will not change that recommendation. Official root ratings by county are now published at http://www.ag.uiuc.edu/cespubs/pest/articles/images/200323table1.html.
In the comparison from 2002 to 2003, the average plant damage may have been less severe in 2003. However, a much larger percentage of plants were damaged. Until corn with rootworm resistance is accepted for sale to Europe, the most popular strategy will continue to be the use of a planting-time soil insecticide. The seed-applied materials continue to have high interest, and the current U of I research regarding rootworm control can be found at http://www.ag.uiuc.edu/cespubs/pest/
articles/images/200322table4.html.
Logan County has continued to be out of the mainstream in regard to Western corn rootworm damage in first-year corn, but the "defenses are weakening." Producers need to carefully weigh the information available for damage and available remedies in order to make an informed decision about seed and pesticide orders for the coming year.
[to top of second column in this article]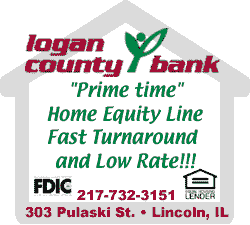 Commercial corn plot harvested
The Logan County Commercial Corn Plot was harvested on Friday. Complete information is still being compiled, but yields ranged from the 170s to over 225 bushels per acre. Moisture levels were between 15.3 percent and 18.2 percent. Thanks go to the cooperating companies, Scott Wurth family, State Bank of Lincoln, Fort Trust Farms and others involved in the plot this year. Watch this space for a complete report of yield information for the 32 hybrids involved in the plot this year.