The Lincoln Daily News publishes letters to the editor as they are received.
The letters are not edited in content and do not necessarily reflect
the views of Lincoln Daily News.
Lincoln Daily News requests that writers responding to controversial issues address the issue and refrain from personal attacks. Thank you!
.
You may also send your letters by e-mail to ldneditor@lincolndailynews.com
or by U.S. postal mail to:
Letters to the Editor
Lincoln Daily News
601 Keokuk St.
Lincoln, IL 62656
Letters must include the writer's name, telephone number, and postal address or e-mail address (we will not publish address or phone number information). Lincoln Daily News reserves the right to edit letters to reduce their size or to correct obvious errors. Lincoln Daily News reserves the right to reject any letter for any reason. Lincoln Daily News will publish as many acceptable letters as space allows.
---
Plan needed for once-a-year leaf problem

Send a link to a friend
To the editor:
I myself do not live in Lincoln but my mother does. The town of Lincoln has made it very hard for any individual to get rid of their leaves. You can't burn them and you have no one that will go around to pick them up, that is if you are able to get them raked to the edge of your lot. Now you can take them to the dump, if you know someone with a vehicle that can haul them.
I know that some people have medical problems, but this time only comes once a year that we really need to get the leaves cleaned up. I think that Lincoln needs to think this problem over again and figure a better plan out. You could allow burning after school hours and before dusk and on weekends just during the time that the leaves need to be cleared away. Your no-burn policy could be in effect the rest of the year.
Kathy Letterle
[posted 10-21-03]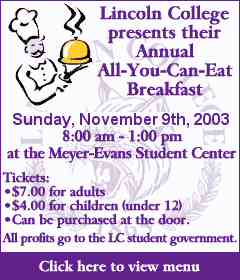 Suggests small fee to pick up yard waste

Send a link to a friend
To the editor:
I find it interesting that every year the city of Lincoln cannot find a good way to deal with yard waste, especially during the fall. Every single year that I have lived here the city waits till the last minute to tell us how they plan to deal with the situation. WHY NOT ASK US IF WE ARE WILLING TO PAY A SMALL FEE FOR YARD WASTE PICKUP?
I'm a single parent with a lot of trees in my yard that I love. But having to haul all of the waste to the dump is a big hassle.
I know of many small and large towns in the region that have yard waste pickup available to their citizens, including the small town of Tolono, even during these tough financial times. Why can't the city step up to the plate and provide us this service even for a small fee?
I know that I would be more than willing to pay for it, and don't tell me to ask for a neighbor's help; we are all in the same boat and are frustrated with the city's assumption of what we want or need for yard waste pickup. They need to talk to their constituents more often and not just assume that we will go along for the ride.
Melissa Byrd
[posted 10-21-03]
Flowers and Things

515 Woodlawn Road
Lincoln, IL

(217) 732-7507

"Your Professional Florist"

Lincolndailynews.com

is the place to advertise


Call (217) 732-7443
or e-mail
ads@lincolndailynews.com

Our staff offers more than 25 years of experience in the automotive industry.

Greyhound Lube

At the corner of Woodlawn and
Business 55

No Appointments Necessary
Sees judge as supporting community

Send a link to a friend
To the editor:
I am writing to say I strongly disagree with the drivel that Les Van Bibber has been dishing out on Lincoln Daily News and The Courier.
Judge Behle was donating his time to a not-for-profit organization. How can that possibly be turned into something he should step down for? I think Lincoln is blessed to have elected officials that take part in community events.
Mr. Van Bibber, you are the self-proclaimed "watch dog"... I am glad to see the only thing you can find to protect the citizens of Lincoln from is a judge who believes in supporting the community. That must mean Judge Behle and the other elected officials are doing an excellent job of running the city and county.
I have a question for you. What makes you think it is any of your business what Mr. Behle does on his own time when he is away from work? He was not breaking any laws and, as I said before, was giving his time off to charity. He should be commended for his loyalty to the people of Lincoln, not slandered in the newspaper.
Ed Stanfield Jr.
[posted 10-21-03]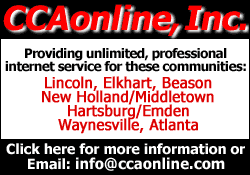 ---
News | Sports | Business | Rural Review | Teaching & Learning | Home and Family | Tourism | Obituaries
Community | Perspectives | Law & Courts | Leisure Time | Spiritual Life | Health & Fitness | Teen Scene
Calendar | Letters to the Editor