State funds $182,000 facelift

Send a link to a friend
[OCT. 31, 2003] MOUNT PULASKI -- Gov. Rod R. Blagojevich released $182,000 in state funds Thursday to rehabilitate the Mount Pulaski Courthouse State Historic Site, an 1847 structure that is one of two remaining 8th Judicial Circuit courthouses where Abraham Lincoln practiced law.
The $182,000 is the unspent balance remaining from a fiscal 2002 appropriation of $240,000. The Mount Pulaski Courthouse rehabilitation was among many state construction projects that were on hold pending review by the governor.
"It's much more cost-effective to rehabilitate a historic building before problems become too severe," said Gov. Blagojevich. "There are only a limited number of original Abraham Lincoln sites remaining, so it's important that we take care of those treasures we have."
The Mount Pulaski Courthouse project will restore the 3,000-square-foot building to its original condition. It will require the removal of multiple layers of paint from the exterior walls; brick replacement and re-pointing; restoration of the interior plaster walls, windows and doors; and miscellaneous repairs to the metal roof and drainage systems.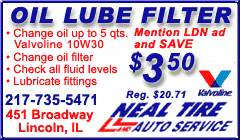 Mount Pulaski Courthouse State Historic Site, administered by the Illinois Historic Preservation Agency, is open Tuesday through Saturday from noon to 4 p.m. for free public tours. It is located in the center of the square in downtown Mount Pulaski.
[State news release]