The Lincoln Daily News publishes letters to the editor as they are received.
The letters are not edited in content and do not necessarily reflect
the views of Lincoln Daily News.
Lincoln Daily News requests that writers responding to controversial issues address the issue and refrain from personal attacks. Thank you!
.
Submit a letter to the editor online
You may also send your letters by e-mail to ldneditor@lincolndailynews.com
or by U.S. postal mail to:
Letters to the Editor
Lincoln Daily News
601 Keokuk St.
Lincoln, IL 62656
Letters must include the writer's name, telephone number, mailing address and/or e-mail address (we will not publish address or phone number information). Lincoln Daily News reserves the right to edit letters to reduce their size or to correct obvious errors. Lincoln Daily News reserves the right to reject any letter for any reason. Lincoln Daily News will publish as many acceptable letters as space allows.
Good Morning,

Thank you for covering the opening of the Vietnam Memorial -- and FINALLY for some paper in this town to actually take the time to LIST the names of those who are on the wall from Logan County. Thank you!

Jon Douglas Baker is the correct spelling of his name -- thank you for taking the time to cover this event.

Thank you,

Robert & Diane Baker
---
Dear friends in Logan County,
We wanted to write to express our appreciation to some very wonderful residents of Logan County.
On July 12 we were en route to St. Louis to catch a flight to Fort Lauderdale and eventually a cruise to the Caribbean. After already encountering a canceled flight in Bloomington, we were faced with a broken serpentine belt just outside of Atlanta, Ill. We were glad to be directed to the local NAPA store and its very generous and helpful owner, who had the part we needed and the willingness to help some desperate strangers find someone to install it on a Saturday when most service centers were closed.
The first helpful Atlanta, Ill., residents were Gil and his son Kendall. They willingly worked for over an hour, covered in sweat and oil with cuts over their hands in an attempt to install the belt. As we stood by, wishing we could help too but knowing little about cars, one helpful NAPA store customer after another stopped to help get us on the road. The owner of the NAPA store stayed open late and supplied tools we needed at no charge.
[to top of second column in this letter]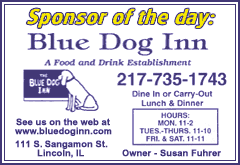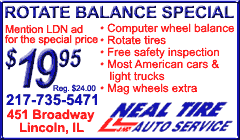 Gil and Kendall stuck with us too, and soon we had one person after another trying to help us forlorn strangers get back on the road. These good Samaritans of Atlanta stood and worked in the heat of midday, covered in oil and sweat with hands cut and bleeding, to help out someone they had never met before. After at least a couple of hours, one gentleman who was familiar with our mechanical need happened upon the situation and instructed one fellow to hold right here, and he gave a tug there, and the belt was right in place!
We tried our best to pay our helpers, but to no avail. Not one would accept payment for fixing our car and getting us on the road to our vacation.
In trying to say "thank you" in a small way, we are writing to your newspaper to let them know that we so much appreciate their kindness to strangers and hope that someday we can extend that same type of kindness to someone in need.
Sincerely,
Bill and Marilyn Bates
Washington, Ill.
(posted 8-22-03)