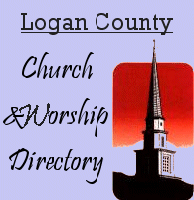 Holy Family Parish
316 S. Logan
217-732-4019
Priest:
Msgr. E. Edward Higgins
Associate:
Rev. Thomas Taylor
Mass:
Sat. 5:00PM
Sun. 7:30AM, 9:00 AM
& 10:30AM
Lincoln Christian Church
204 N. McLean
217-732-7618
Preaching minister:
John Castelein
Worship:
8:30AM & 11:00AM
Website: www.lincolnchristianchurch.org
Trinity Episcopal Church
402 Pekin St., Lincoln
217-732-7609
Pastor: James Cravens
Worship:
7:30 & 9:45AM Sunday
9:00AM Tuesday-Friday

Kingdom Life Ministries
2500 Woodlawn Road
217-732-1466
Pastor: Joe Bennett
Worship:
10AM & 6:30PM Sunday

Lincoln Bible Church
2316 N. Kickapoo St., Lincoln 217-735-5959
Pastor: Don Hoover, phone 217-735-4641
Worship: 10AM Sunday
Sunday School: 9AM
Home Bible class: 6:30PM
Overcomers in Christ:
7PM Tuesday
Teen Club (7th-12th grade); Kids in Christ's Service (1st-6th)
7PM Wednesday
Good Shepherd Lutheran Church Association of Free Lutheran Congregations
1140 N. State St., Lincoln
217-735-9320
Pastor Roger David
Worship:
10AM Sunday
Sunday School:
9AM
E-mail: gslc@ccaonline.com
Immanuel Lutheran Church ELCA
1409 Pulaski St., Lincoln
217-732-6777
Pastor Dan Wissmann
Worship:
9:00AM Sunday
Zion Lutheran Church
Lutheran Church-Missouri Synod
205 Pulaski St., Lincoln
217-732-3946
Pastor Mark Carnahan
Worship:
8:00 & 10:30AM Sunday
Radio, WLLM-AM 1370:
8AM Sunday
TV, Cable Channel 15:
10:00AM Sunday
5:00PM Monday
First United Methodist Church
302 Broadway St., Lincoln
217-732-2204
Pastor: Jame Hahs
Worship:
8:30AM Traditional
11AM Contemporary
Sunday School:
9:45 AM
website: www.gbgm-umc.org/
lincoln1stumc/index.html
To inquire about listing your congregation's worship information, please e-mail us at ldn@lincolndailynews.com or call us at (217) 732-7443.

Announcements
'Honoring Abraham Lincoln--Glorifying Jesus Christ'
On the special occasion of the sesquicentennial

Send a link to a friend
[AUG. 30, 2003] You are invited to a series of three inspiring talks comparing and contrasting the lives of former President Abraham Lincoln and of our Lord Jesus Christ.
These addresses will be delivered by Lincoln Christian Church's preacher, John Castelein, who changed from Belgian citizenship to American citizenship in 1984, and since then has been an ardent admirer and avid student of Lincoln's life.
We wish to honor the noble president who named our city in 1853, before he became a legend in American history. Abraham Lincoln throughout his life modeled many virtues for our city to imitate.
And where Lincoln, like all fallible humans, falls short of being perfect, we want to glorify Jesus Christ, whom so many Christians in many churches serve faithfully in Lincoln, Ill.
This series runs on three consecutive Sundays -- Sept. 7, 14 and 21 -- and will be presented in all three services: traditional worship in the sanctuary at 8:30 a.m., meditative worship in the sanctuary at 11 a.m. and contemporary worship in the Fellowship Center at 11 a.m.
Services are broadcast on Channel 5 the following Saturday at 6 p.m. and Sunday morning at 8:30.
Anyone living in Lincoln who honors our namesake president, and especially anyone looking to Jesus Christ as Lord, will be uplifted and encouraged by these talks/sermons. All are invited!
[News release]
---
First Baptist Church new
fall schedule

Send a link to a friend
[AUG. 30, 2003] First Baptist Church, 101 Broadway St. in Lincoln, has a new fall schedule for church services beginning Sunday, Sept. 7:
Wednesday evening:
Choir practice, 5:30 to 6:15 p.m.

Meal at 6:15 p.m.

Bible study at 7 p.m.

Youth activities, ages 3 and up
For more information, call (217) 732-7409.