Nobody is saying anything bad about the school, students included. Principal Christa Healy says she loves everything about it. There have been a few "new building" problems, but nothing that they couldn't work with. She also says that the kids love their new school.
Third-grade teacher Donita Biggs said that the safety features and security are a big plus, and the solid floors are an improvement over the building they were in last year. She also says that the kids love it, that it is a much quieter environment and better for learning. She told me she could go on for hours telling me how great this school is, compared with several others she has worked in across central Illinois.
Secretary Judy Aper loves having her big office and says it is wonderful to have the nurse's office right there by her office. "The environment is bright and cheerful," she said. "The kids love it, and they can study more."
Mrs. Kuhlmyer, the district's band director, says she is thrilled to finally have a band room. At the old Central building, she had to use the gymnasium for band, and it was also used for a cafeteria. Another feature of the band room is storage lockers for the students' instruments. The students used to have to leave their instruments in an open hallway by the kindergarten classroom.
[to top of second column in this article]

The kindergarten teacher, Mrs. Bryant, also loves the new school, as does librarian Sharon White. "I especially love the library!" she said. "It was overwhelming when we walked in and saw everything jumbled in the middle, but it's coming together."
The teachers and staff were all correct when they said that the students love their new school.
Kelci, a sixth-grader, said, "It's good. It's air-conditioned."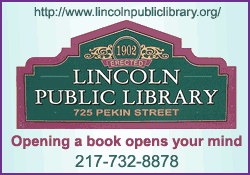 Another sixth-grader, Nikkita Zeidler, agrees. "It's wonderful. Better than the old school. I love the library. It's huge. And I love the idea of the phone thing." She explained that every classroom is equipped with a telephone, complete with an intercom system, so that teachers can call each other, the office or parents whenever they need to.
The students all expressed similar sentiments. Every child interviewed in a half hour loved the new school.
First-grader Cameron said, "It's so great!" His brother Michael says it is beautiful and awesome.
Enthusiasm for school is hard to come by. If this kind of attitude about coming to school results in better grades and better study habits, the town of Lincoln and the families with children in Central School will be richly blessed.
[Ruth Halpin]