The Lincoln Daily News publishes letters to the editor as they are received.
The letters are not edited in content and do not necessarily reflect
the views of Lincoln Daily News.
Lincoln Daily News requests that writers responding to controversial issues address the issue and refrain from personal attacks. Thank you!
.
Submit a letter to the editor online
You may also send your letters by e-mail to ldneditor@lincolndailynews.com
or by U.S. postal mail to:
Letters to the Editor
Lincoln Daily News
601 Keokuk St.
Lincoln, IL 62656
Letters must include the writer's name, telephone number, mailing address and/or e-mail address (we will not publish address or phone number information). Lincoln Daily News reserves the right to edit letters to reduce their size or to correct obvious errors. Lincoln Daily News reserves the right to reject any letter for any reason. Lincoln Daily News will publish as many acceptable letters as space allows.
To the editor:
I like to read the LDN to keep up on news and folks from one of my favorite places on earth! The latest "Mayfield's Mutterings" alluded to the very ugly Ohio State victory this past Saturday over visiting San Diego State. As a huge ILLINI fan, formerly of Lincoln, and now living in Columbus, Ohio, I must say that for the Buckeye fans here, an attitude of "a win is a win, no matter how ugly" has made great strides at becoming one of the greatest truths of all time!
Last year I was so excited to see our beloved Illini ALMOST (I know that doesn't count, does it!) upset their sorry butts (can I say that here?). I can't wait until next year when we'll have another shot at these jokers!
The big news here today, Sept. 9... Maurice Clarett will be formally charged in the Franklin County Municipal Court with falsifying documents in a criminal investigation. Most likely, he is gone from the Ohio State lineup!
Thanks to Mayfield and Greg Taylor for their inspiring write-ups. Miss you both!
Jason Smith
[posted 9-10-03]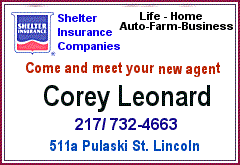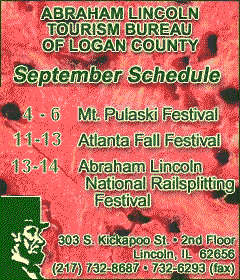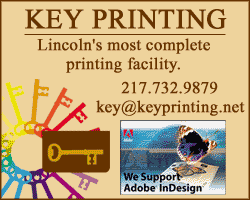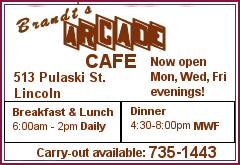 Dear Editor:
On behalf of Mothers Against Drunk Driving and the Alcohol, Tobacco and Other Drugs Task Force, we would like to congratulate Membrata on winning the Battle of the Bands! Membrata's members are Mark Luttrell, Nathan Whiteman and Joe Pesha (all are from Lincoln).
MADD and the ATOD Task Force would also like to thank IGA for donating the hot dogs and buns, Cookie's Bakery for donating cookies, Lincoln Police Department for letting us to use their grill and trailer, the Logan County Board for allowing us to use Latham Park, the sesquicentennial planning committee for permitting us to offer the Battle of the Bands as an alternative activity for teenagers, and Eric Wassell for bringing his sound equipment from Springfield and running the sound board.
Approximately 325 people attended the Battle of the Bands. Thank you to all of the volunteers who helped to make our event a success!
Sincerely,
Kristi Lessen
Co-chair ATOD Task Force
Member of MADD
[posted 9-6-03]
On May 9 of this year, my son was a passenger on a motorcycle driven by my stepfather. They were just out for a leisurely ride before dinner. Little did they know that the rest of their lives were about to be changed.
Around 7 p.m. they left Madigan State Park and headed home on Old Route 66. They were riding along, enjoying the evening, when out of nowhere a car came flying up behind them and struck the motorcycle. My son and stepfather were ejected off the bike and about 15 feet into the air, where they traveled approximately 285 feet before hitting the ground. The car never even slowed down until about 200 yards or more after it hit the motorcycle. The speed limit on that particular stretch of Old 66 is 55 mph, but an eyewitness to the crash said the car appeared to have been traveling in excess of 70 mph.
The motorcycle was thrown about 20 to 25 feet into the air and somehow landed in front of the car and was hit again. Meanwhile my son and stepfather are rolling and skidding along the pavement, where they received quite serious injuries.
Luckily, my son only ended up with a severe case of road rash. By some miracle, he had no broken bones or life-threatening injuries. My stepfather, on the other hand, was not so lucky and has injuries that will be with him for the rest of his life.
What happened to the person who caused this tragic event? He ended up with nothing more than a traffic citation for failure to reduce speed to avoid an accident, and received a fine.
Is this justice for nearly costing two people their lives?? Everyone I know says no, the person responsible should have been arrested on the spot. But according to Illinois law, the trooper that responded to the scene did the only thing he was allowed by issuing the traffic citation. The driver was not even tested for drug or alcohol use! (The trooper said there was "no cause.")
Correct me if I am wrong, but when you nearly kill two people for no apparent reason (it was still daylight, a straight road and no adverse weather at the time to distract the driver), does it not make sense to test the person to see if there were drugs or alcohol involved??
What is wrong with the law that someone can get away with ruining the lives of two families and only get a traffic ticket out of it?!!
I have contacted everyone from our congressman to the senator's office to try to find a way to make laws stricter concerning these types of "accidents" and have gotten the same response each time, which is that there is nothing that can be done about the way the laws are written.
What is a person supposed to do to get justice? It doesn't seem that there is such a thing anymore.
The only reason I am even writing this letter is so that people know the truth about what really happened, since a local paper made it sound like it was just a little fender bender and everyone is fine. That is absolutely not true! My son will carry the scars from this, both physical and mental, for the rest of his life, and my stepfather faces even worse consequences in his future.
Jennifer Harris
[posted 9-6-03]
To the editor:
We would like to take this opportunity to thank those who planned, worked, donated and attended the benefit for the Janet Christian family on Saturday, Aug. 2, in Hartsburg. We appreciate the outstanding support of area churches, community and youth who put forward their time and talents to make this benefit a success.
We would like to especially thank Alan Klokkenga, Jim Klokkenga, Randy Baker, Dawn Reiners, Lincoln IGA, Hartsburg-Emden area churches, Hartsburg-Emden School, Atlanta Locker, McDonald's, Interstate Bread, Fairview Acres, Long John Silver's and Kentucky Fried Chicken.
We also thank the Logan County chapter of Thrivent Financial for providing matching funds for the benefit.
Proceeds from the benefit will help the Christians pay for medical expenses associated with Janet's stem cell transplant.
Your generosity and support is greatly appreciated.
The Janet Christian family
The Janet Christian benefit committee
[posted 9-5-03]
To the editor:
Main Street Lincoln was overwhelmed by the generosity shown at the "Who Let the Dogs Out?" art auction held during the sesquicentennial celebration. Our event was just one of many successful events attended within the festivities. Lincoln is so fortunate to have such a giving and dedicated citizenry that supports the efforts made to improve the quality of life in our community.
On behalf of the board of directors, thank you to the following individuals and businesses that purchased the artwork:
Al Firma
Marsha Warner
Cheryl Johnson
Dan Wheat
Chuck McGee
Dr. Kristen Green-Morrow
Brad Nikles
JM Abbott & Associates
State Bank of Lincoln
Logan County Bank
Beans & Such
The Mustard Moon
Best Friends Animal Hospital
The Courier
White Oaks West Animal Hospital
Lincoln College
David G. Lanterman
President, Board of Directors
Main Street Lincoln
[posted 9-4-03]