Workshop opens the doors of live theater
Inexperienced high schoolers to seniors invited for fun day

Send a link to a friend
[FEB. 11, 2005] Have you ever longed to be a part of the excitement of live theater but didn't feel self-assured enough to try? Now you can put aside your fears and join an afternoon of comfortable, relaxing fun. Lincoln Community Theatre is hosting an informal adult audition workshop for anyone from the active high schooler to the agile senior citizen. Theater encompasses all ages and abilities for diversification and support.
Beginning at 1 p.m. on Feb. 26 in the social hall of St. John Church, you can be an active participant in warm-ups, sight readings, dance movement, improvement exercises, dos and don'ts of auditioning, and much more.
Jennifer MacMurdo Holcomb will share her talents and experience to lead the afternoon of fun, foolishness and facts. She has a bachelor's degree in theater performance from Southern Illinois University-Carbondale, extensive directorial credits (including "The King and I" and "1776" for Lincoln Community Theatre), has facilitated workshops on ensemble movement for the Illinois High School Theatre Festival, and in 2004 started the Little Coat Theatre.
Come comfortably dressed and ready for fun. The address is 204 Seventh St.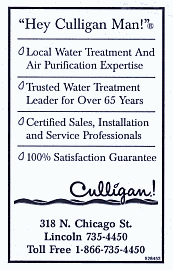 Preregistration is requested for planning purposes. You may call Jean Gossett at (217) 732-7542 for more information or to register.
[Lincoln Community Theatre news release]