The Illini jumped on Indiana 20-3 over the game's first eight minutes but expended most of that energy just waking up the crowd. Dee Brown made a great over-the-head pass to Deron Williams, who flipped it ahead to James Augustine, who made a nice flying Augie dunk! Not to be outdone, Deron threw the next one to Luther Head, who hammered one down. However, the Illini decided to join the crowd and take a pre-Super Bowl nap, and by halftime the lead had whittled to 26-20.

Fortunately for Illini fans, the boys came out of the locker room pretty fired up and extended the lead to a comfortable margin. Dee hit two NBA-range and beyond 3-pointers, and Illinois' defense swarmed the Hoosiers the rest of the day, leading to a 60-47 win before 16,618 patrons.

The win gives the Illini a 23-0 and 9-0 record, and it was their 19th straight at the Assembly Hall. Illinois is now 75-3 over the last five-plus campaigns. Their start is also the fourth best in Big Ten history.

Four players finished in double figures for an incredible 16th time. Augustine had 16, Head had 13, Brown had 12, and Powell had 10.

The Illini take to the road for a tough game at Michigan on Tuesday at 6 p.m.

A sampling of post-game quotes:

Q: Coach, do you like it when Dee takes those long NBA 3-point shots?

Weber: When he makes 'em!

Q: Coach, what was to blame for Indiana getting such a good scout and read on you guys?

Weber: I guess you could blame Nick Smith. He said in Sports Illustrated that you have to disrupt us -- play zones, mix the defenses and hope that our guards are cold from the perimeter -- so I guess he gave them the recipe.

Q: Coach Davis, what would've happened if Bracey Wright would've played?

Davis: We probably would've lost by 40… I'm just kidding. It probably wouldn't have made a big difference. Illinois is a great team.

Q: Coach Davis, you held D. Williams to one point. What did you think of that?

Davis: Williams is one of the top two point guards in America. He handles pressure, makes big shots, is an outstanding passer and plays defense flawlessly.

Q: Deron, what did you guys think of the SI (Sports Illustrated) article?

Deron: We were in SI?

Deron: …I like it!

ISU nips Bradley in I-74 slugfest

In another game that certainly won't win style points for beauty, the ISU Redbirds disposed of the Bradley Braves 69-62 before a sellout crowd of 10,200 fans. It was ISU's first sellout in seven years.

Lincoln's Gregg Alexander continues to carry the torch for the 'Birds. He tallied seven points, was his team's high rebounder with six, and he managed three assists. However, it is on the defensive side of the ball that he sets the tone and helps his teammates bear down and get stops at crucial junctures in games.

Saturday's game with Bradley was no exception. Alexander held Jeremy Crouch to four points on the day, and two of those came while Gregg was spelled on the pines. Alexander also had to take the ball from out of bounds and get it safely into play against the Braves' full court press, and time after time he delivered. He will be sorely missed when he graduates this spring!

ISU is now an eye-popping 16-6 and in sole possession of third place in the Valley with an 8-4 record -- not bad for the team that was predicted to be last! Only Illinois' unbelievable streaks have allowed the 'Birds to fly so quietly under the radar!

ISU entertains the MVC's leader, Wichita State, Thursday night at 7. This would be a GREAT family night excursion for those looking for a fun, inexpensive family night out.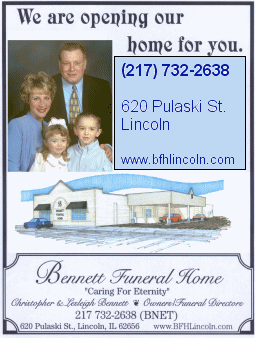 Railers defy the odds
If you watched as much basketball as some of my friends have, you would realize that a team the size of the Lincoln Railers is going to have issues in the post night after night. But Lincoln continues to hide it, mask it and then put in players who aren't afraid to go in there and get good things done. How else could you explain Lincoln's amazing victory over Lanphier on Friday night?
Lanphier comes in playing well and with more athleticism than you can shake a stick at, and then the undersized Railers go 2-for-19 from 3-point range -- probably heavily out-rebounded -- and so you surmise a sad and tough Lincoln loss? How 'bout a 50-38 win in a game that might not have been that close. In other words, if Lincoln hits only two or three of those missed 3-pointers, this game is a rout!
That's because Lincoln almost always plays great defense, and when you swarm and play great defense you cause the Lions to turn it over 21 times while committing only nine of your own.
For an encore, Lincoln drove up the road to take on Normal West on Saturday. This time the Railer shots were falling en route to a 55-32 victory.
The win makes Lincoln now 22-4 and 9-2, which puts them in a first-place tie with Springfield Southeast, a team they will see Friday night.
One last comment: It was good to see a nice crowd at Roy S. Anderson gym on Friday night. The memo must've gotten out. I still think we could be a little louder, which would really help the home-court advantage, but just seeing more people in the seats is a good start. Nice going, fans!
Super Sunday…
is probably one of my favorite holidays! There's usually a great college basketball game (in this case a beautiful Illini win) followed by the football game, lots of great food and snacks, and just the fellowship of family and friends. Could there be anything greater than that?
This Philly-New England game was interesting from start to finish. The battle of two great defenses shows why these two teams advanced. In the end, the Patriots were too much for the Eagles as they have been for most teams over the last two or three years.
I still think they wronged the Raiders with that horrible call in the blinding snowstorm, but someday I promise to get over that! (Not likely that that will be very soon, however!)
All in all, it was another great NFL season, but how much more fun is the Super Bowl when one of "our" teams is in it???
Congrats to West Lincoln-Broadwell…
…who I understand won their 7A tourney game in Clinton. I think that means they are to play Findlay Okaw Valley tonight (Monday).
IWU No. 1
Illinois has become the capital of the basketball world as Illinois Wesleyan has also attained a No. 1 ranking. Coach Scott Trost's cagers of D-III fame are 16-2 and 7-0 this season after destroying Carthage 91-67 before a standing-room-only crowd of 2,900! Lincoln's Jake Sheley helps out with the Titan program.
There are dozens of other things I should be reporting on, but work and family responsibilities are keeping all that to a minimum.
So, that's it for me… Have a great week, everybody!