| | | |
| --- | --- | --- |
| Quarter in 2004 | Units collected in Logan County | Units used at ALMH |
| 1 | 134 | 168 |
| 2 | 239 | 137 |
| 3 | 210 | 92 |
| 4 | 190 | 143 |
"This is the first year since CICBC became the supplier of blood and blood products for ALMH that Logan County donations have exceeded Logan County needs," said Tara Tyler, donor recruiter for the blood center.
"We are thrilled to see our community rise to a level of providing blood and blood products that not only meet the needs of our own community members but exceed them," said Woody Hester, chief executive officer of ALMH. "Giving more than we receive in a lot of ways is a long-standing community tradition in Logan County. When that tradition includes blood donation, everyone wins."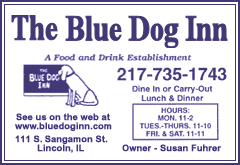 A Logan County blood drive is held on the first Monday of each month from noon to 6 p.m. at the Logan County Paramedic Association building. In addition, other organizations throughout the county sponsor blood drives. In 2004, Eaton Corporation, Lincoln Christian Church, Lincoln Community High School, Lincoln Masonic Lodge, Faith Lutheran Church, Elkhart Christian Church, Logan Correctional Center and the Logan County Health Fair were additional blood donation sites.
"We are extremely pleased with the increased awareness that to provide blood donations that will benefit their friends and neighbors in Logan County, blood donations must be made to CICBC," continued Tyler.
"When all of the needs of our own are met, we are then able to help out neighboring communities within the Central Illinois Community Blood Center's network," added Hester. "We are grateful to this community for its generous spirit of giving." When donations exceed Logan County needs, the blood and blood products are used in both Springfield hospitals, Memorial Medical Center and St. John's, and other hospitals in the region.
[to top of second column in this article]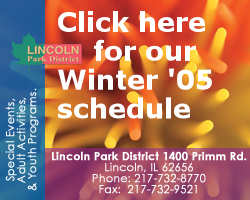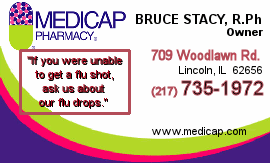 "Our thanks, not only given to the Logan County Paramedic Association and the other organizations that hosted blood drives in 2004, must also be given to Barb Dahm (ALMH special services director) and the ALMH Auxiliary members who volunteer at the blood drives," said Tyler. "Without volunteers, blood drives are difficult to manage."
Additional volunteers and food for the blood drives in 2004 at the paramedics' building were provided by First Presbyterian Church, Lincoln Christian Church, Good Shepherd Lutheran Church, Immanuel Lutheran Church and the United Methodist Church.
"Shirley Helton represents Logan County on the CICBC board," added Tyler. "She works hard to make sure Logan County residents are aware the Central Illinois Community Blood Center provides their local blood needs. She is a great asset."
CICBC, a not-for-profit organization headquartered in Springfield, also serves Memorial Medical Center in Springfield, St. Vincent's Memorial Hospital in Taylorville, and many other hospitals in central and southwestern Illinois. The blood center is located at 1134 South Seventh St. in Springfield. Blood donations are accepted Monday through Friday by calling (217) 753-1530 for an appointment. For more information about CICBC, visit www.cicbc.org.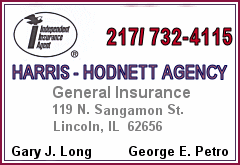 Abraham Lincoln Memorial Hospital is a community-based general hospital. ALMH strives to be the "Best Rural Hospital in America" by providing state-of-the-art facilities for the vast majority of health care needs. ALMH is a 10-year affiliate of the Memorial Health System of Springfield, whose vision is to be the leading health care system that people choose over all others. For more information about ALMH or its services, visit www.ALMH.org or call (217) 732-2161.
[ALMH news release provided by Krystal Peasley]