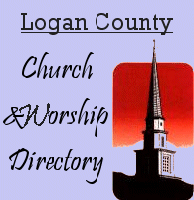 Holy Family Parish


316 S. Logan
217-732-4019
Pastor:
Rev. R. Anthony Lee
Liturgy schedule:
Sat. 5:00PM
Sun. 7:30AM, 9:30AM
& 10:30AM
Website:
www.holyfamilylincoln.com
E-mail: info@holyfamilylincoln.com
Lincoln Christian Church


204 N. McLean
217-732-7618
Preaching minister:
John Castelein
Worship:
8:30AM & 11:00AM
Website: www.lincolnchristianchurch.org
Prairieland Christian Church


P.O. Box 108, 1st St. Hartsburg, IL 62643
217-642-0415
Minister:
Chad Ragsdale
Sunday School: 9:30AM
Worship: 10:30AM
Trinity Episcopal Church


402 Pekin St., Lincoln
217-732-7609
Pastor: James Cravens
Worship:
7:30 & 9:45AM Sunday
9:00AM Wednesday
Kingdom Life Ministries


2500 Woodlawn Road
217-732-1466
Pastor: Joe Bennett
Worship:
10AM & 6:30PM Sunday
---
Lincoln Bible Church


2316 N. Kickapoo St., Lincoln
217-735-5959
Pastor: Don Hoover, phone 217-735-4641
Worship: 10AM Sunday
Sunday School: 9AM
Prayer meeting: 6:30PM
Kids in Christ's Service (1st-6th): 7PM Tuesday
Teen Club (7th-12th):
7PM Wednesday
Overcomers in Christ:
7PM Wednesday
Good Shepherd Lutheran Church Association of Free Lutheran Congregations


1140 N. State St., Lincoln
217-735-9320
Pastor Blair Kasfeldt
Worship:
10AM Sunday
Sunday School:
9AM
E-mail: gslc@ccaonline.com
---
Immanuel Lutheran Church ELCA


1409 Pulaski St., Lincoln
217-732-6777
Pastor Dan Wissmann
Worship:
9:00AM Sunday
Sunday School:
10:15AM
First United Methodist Church


302 Broadway St., Lincoln
217-732-2204
Pastor: Jame Hahs
Worship:
8:30 & 11AM Sunday
Sunday School:
9:45 AM
Website: www.gbgm-umc.org/
lincoln1stumc/index.html
To inquire about listing your congregation's worship information, please e-mail us at ldn@lincolndailynews.com or call us at (217) 732-7443.
Seminary lectureship March 9 features Dr. Robert Webber

Send a link to a friend
[FEB. 26, 2005] A lectureship at Lincoln Christian College and Seminary on March 9 will feature Dr. Robert Webber. The theme is "Renewing Your Worship."
The lectureship is free and open to the public.
Webber has been referred to as one of the real and practical experts in the "art of Christian worship." He is on the faculty of Northern Seminary, located in a Chicago suburb. He travels extensively speaking about worship renewal and has authored over 40 books on worship and the church, including "The Complete Library of Christian Worship," "Renew Your Worship!" "Ancient-Future Faith," "Journey to Jesus," "The Younger Evangelicals" and most recently "Ancient-Future Evangelism." He is a contributing writer for periodicals such as Worship Leader and Creator Magazine.
Webber is recognized by pastors, denominational leaders, scholars and lay people as one of the foremost authorities on worship renewal. Over 30,000 people of almost every major denomination in North America have attended his workshops. He is president of the Institute for Worship Studies, which offers advanced degrees in worship studies.
March 9 schedule:
9:30 a.m. -- "Cultural Analysis -- Where Are We Headed?"

Noon -- "Forming Congregational Spirituality"

2:30 p.m. -- "Forming Personal Spirituality"
All sessions will be in the Earl C Hargrove Chapel on the campus.
A brown-bag lunch hour will be offered at noon. Please call for your sack lunch reservation by March 3. Cost of the lunch is $3.50.
For more information or lunch reservations, call the seminary at (217) 732-3168, ext. 2354, or e-mail bshelley@lccs.edu.
[News release from Lincoln Christian College and Seminary]
---
Send your church announcements and articles to ldneditor@lincolndailynews.com.