This isn't, however, a smoke-filled nightclub or lounge. It's St. Clara's Manor at 11:15
a.m. on Monday, March 6. Eighty-four-year-old Vi Schmidt is making her monthly, voluntary appearance to entertain the residents with her piano playing during their lunch time.
Viola Schmidt was born in 1915 and started playing the piano at a very young age. "I've been playing piano ever since my older sisters could pick me up and set me on the bench. That's a lot of years!"
Her first paid performance was a neighborhood dance that garnered her $1.50. Still, somehow, entertaining people got into her blood. She later took on the professional name "Vi" as music started becoming her way of life. "When I first started playing, you know, I was really young." Says Vi, "I wanted to be a nurse because I thought I couldn't make enough money as a musician. But my father said, 'No, you're going to be a musician.' I'm glad he did that."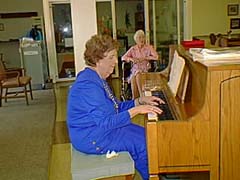 [Vi Schmidt entertaining St. Clara's Manor residents]


Vi and Les Schmidt settled in Lincoln right after marrying in 1934. Les worked in the Lincoln post office for many years and served as assistant postmaster from 1956-1968. They have two children, a daughter, Carol, and a son, Elvin; nine grandchildren; and 14 great-grandchildren.

Vi started playing the piano and organ professionally when her son became old enough to be enrolled in school. She worked a day job for 10 years at the Darby Dancing School, playing for their classes and recitals. In the evenings, she traveled around Central Illinois and played at many nightclubs and restaurants, including the grand opening of the Tropics Restaurant in Lincoln. This type of entertaining became a great source of enjoyment to Vi. Her husband, Les says, "She enjoys playing the piano, entertaining people; that's her thing."

She later began to impart and spread her talent to others by giving piano and organ lessons in her home. She had as many as 60 regular students at one point. Vi also served as the organist at Immanuel Lutheran Church for 35 years.
Now, Vi makes fewer public appearances--the first Monday of each month at St. Clara's for the lunch hour and the third Friday of each month for the evening meal at the Christian Village Nursing Home--but she certainly has not lost that love of entertaining people. She has a twinkle in her eye as well as her fingers when she sits down at the piano. Keen and smooth on the ivories, she plays most any style from classical to swing, and all from memory. There is no sheet music in front of her when she plays. Says Mary Duginger, a resident at St. Clara's Manor, "I've known Vi for a long time, and she hasn't lost her touch."
Vi Schmidt has played for the residents at St. Clara's Manor for over 15 years. What she does for them is a service of the heart that has immeasurable value. One gentleman, with the aid of a walker, made his way into the dining hall as quickly as he could and sat directly in front of the piano. He was soon smiling, tapping his fingers and humming to the music. Then he began to whistle the tune with a distant, yet gratified look in his eyes. Suddenly, in a strong baritone he began to sing, "Let me call you 'Sweetheart,' I'm in love with you..." The office manager at St. Clara's Manor, Susan Boyd, said, "She [Vi] is a super woman as far as I'm concerned. She really makes the residents happy with her music. I wish she would come more often."
It is not hard to see that Vi Schmidt's biggest fan is her husband Les. "She's the greatest piano and organ player. I love to hear her play the Hammond organ." Because of Vi's music career, he says, "We have memories that you couldn't possibly buy."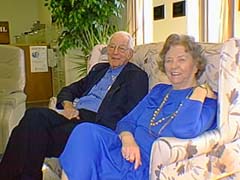 [Mr. and Mrs. Schmidt
]